roasted kale and cheese gnocchi
with chilli tomato sauce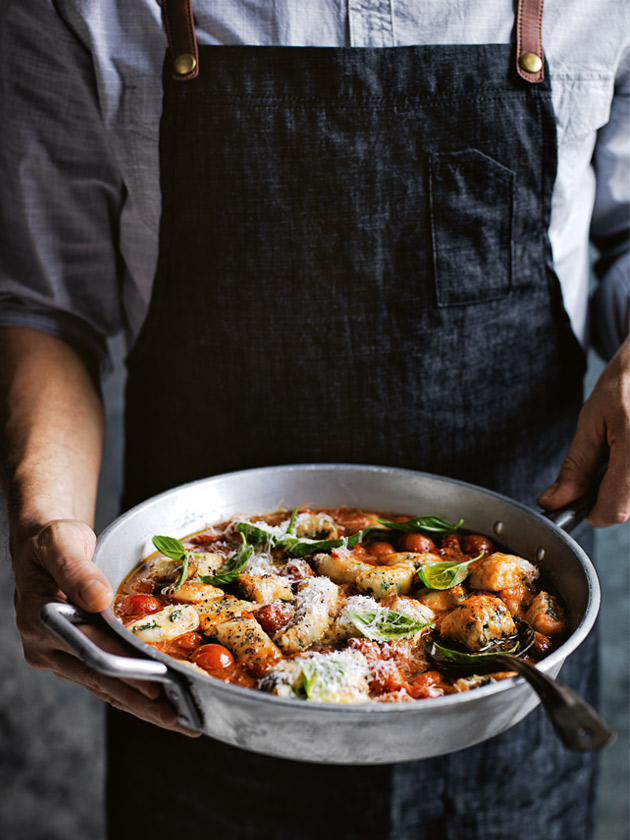 3 x 400g cans cherry tomatoes

1 long red chilli, sliced

¼ cup (60ml) vincotto

2 cups (500ml) vegetable stock

2 cloves garlic, crushed

sea salt and cracked black pepper

1 tablespoon extra virgin olive oil

finely grated parmesan, to serve

basil leaves, to serve

kale and cheese gnocchi
3 cups (100g) shredded kale

1 cup (80g) finely grated parmesan

2 cups (400g) ricotta

½ cup (50g) grated mozzarella

⅔ cup (100g) plain (all-purpose) flour, sifted, plus extra for dusting

Preheat oven to 220°C (425°F). To make the gnocchi, place the kale in a medium bowl, cover with boiling water and set aside for 5 minutes. Drain and squeeze out excess water. Place the kale, parmesan, ricotta, mozzarella and flour in a large bowl, sprinkle with salt and pepper and mix to combine.

Divide the mixture into 4 pieces and roll out each on a well-floured surface into a 30cm log. Cut each log into 2cm pieces and set aside. Place the tomatoes, chilli, vincotto, stock, garlic, salt and pepper in a large deep-sided roasting tray. Cover with aluminium foil and place in the oven for 5–10 minutes or until heated through.

Add the gnocchi to the tray, drizzle with the oil and cook for a further 10–15 minutes or until the gnocchi are cooked through. Sprinkle the gnocchi with parmesan and basil leaves to serve. Serves 4–6.

Tip: You can prepare the gnocchi a day in advance – keep it refrigerated in an airtight container. You could also freeze prepared gnocchi in zip-lock bags for up to one month, and just defrost before cooking.
There are no comments for this entry yet.