roasted parsnip and garlic soup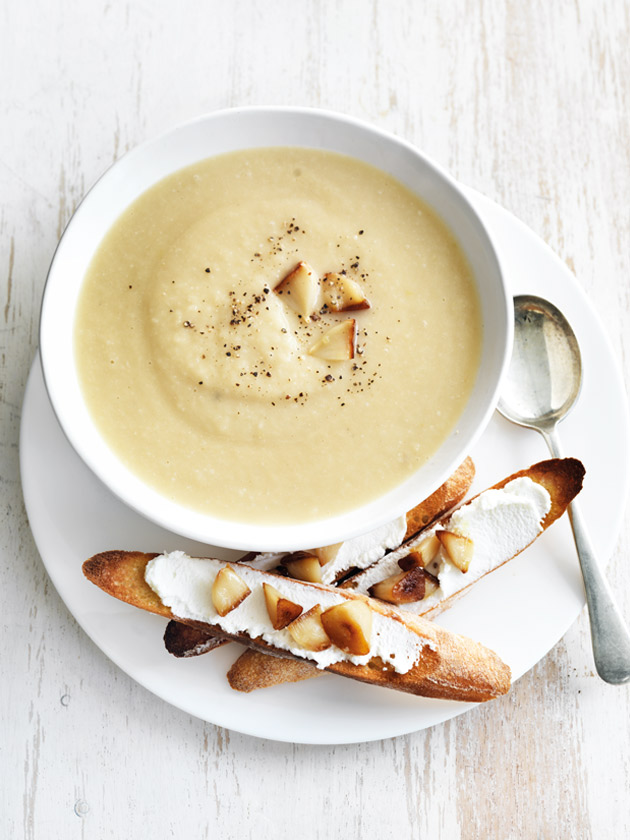 750g parsnips, peeled and chopped

1 brown onion, peeled and chopped

1 tablespoon extra virgin olive oil

sea salt and cracked black pepper

2 tablespoons maple syrup

1.5 litres chicken stock

3 bulbs roasted garlic

¼ cup (60g) sour cream

8 slices sourdough bread, toasted

100g goat's cheese, to serve

Preheat oven to 200°C. Place the parsnip and onion on an oven tray, drizzle with the oil, sprinkle with salt and pepper and toss to coat. Cook for 20 minutes. Drizzle with the maple syrup and cook for a further 10 minutes or until tender.

Place the parsnips, onion and stock in a medium saucepan, squeeze the garlic from the skin of 2 of the bulbs and add to the saucepan. Using a hand-held stick blender, blend until smooth.

Place over a high heat, stir through the sour cream and cook for 2 minutes. Squeeze the remaining garlic from the skin and stir half through the soup. Spread the sourdough with goat's cheese and top with the remaining garlic. Serve with the soup. Serves 4.

Erin Napper
I'm a huge fan of this recipe. Deliciously simple, and very quick and easy to prepare.
I paired it with Lebanese bread topped with olive oil spray and salt as per your recipe in Basics to Brilliance Kids and it was amazing. Thanks Donna!