slow-cooked cranberry and port ham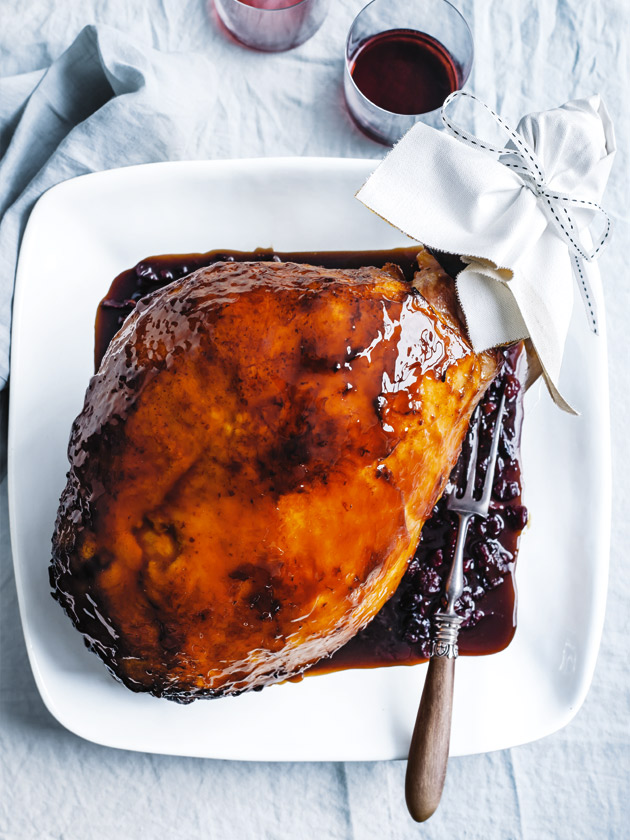 2 cups (440g) caster sugar

2 cups (350g) brown sugar

½ cup (125ml) red wine vinegar

1 litre cranberry juice

350g frozen cranberries

16 sprigs thyme

3 cups (750ml) port

5–6kg ham leg, skin removed and trimmed+

Preheat oven to 220°C. Place the caster and brown sugars, vinegar, cranberry juice, cranberries and thyme in a medium saucepan over low heat and cook, stirring, until the sugar is dissolved.

Increase heat to high and bring to the boil. Cook for 30–35 minutes or until reduced slightly. Remove from the heat and stir through the port.

Place the ham, top-side down, in a tight-fitting, deep-sided baking dish and cover the hock with aluminium foil. Pour over the cranberry mixture and cook for 40 minutes. Turn the ham over and cook for a further 20–25 minutes or until golden.

Remove the ham from the cooking liquid and place on a dish. Transfer the cooking liquid to a medium saucepan over high heat and bring to the boil. Cook for 20–25 minutes or until thickened. Remove the thyme and spoon the sauce over the ham to serve. Serves 8–10.

+ To remove the skin, use a sharp knife to score the skin around the hock, then use your fingers to gently remove the skin from the ham. Trim any excess fat.
Joan Storer
The first time we made this, we thought it sounded like there was too much liquid. It was stunning and the sauce lasted quite a a few days, becoming richer and thicker every day. The next year, made it again with reduced liquid, never again, tasted good but drier. In future every year will have full amount liquid.