smoky haloumi and quinoa salad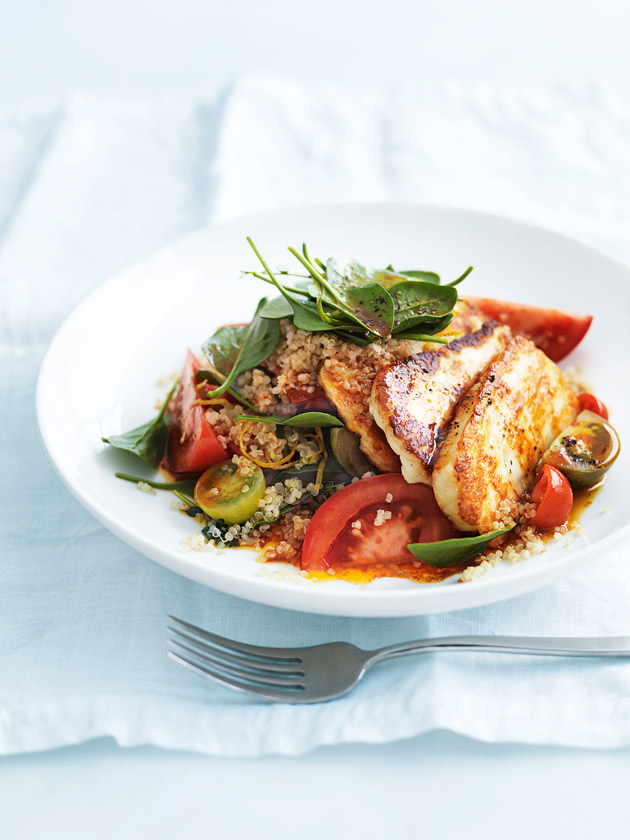 1 cup (200g) white quinoa

2 cups (500ml) water

450g mixed tomatoes, cut into wedges

1 cup baby spinach leaves

500g haloumi, sliced

6 sprigs lemon thyme
finely shredded

zest of 1 lemon

1 tablespoon extra virgin olive oil

smoked paprika dressing
¼ cup (60ml) lemon juice

1 teaspoon smoked paprika

2 tablespoons extra virgin olive oil

1 tablespoon honey

Place the quinoa and water in a saucepan over medium heat. Bring to the boil, reduce the heat to low, cover, and cook for 10 minutes. Remove from the heat and allow to stand, covered, for 5 minutes. Remove the lid and allow to cool.
To make the dressing, place the lemon juice, paprika, oil and honey in a large bowl and whisk to combine. Add the tomato, spinach and quinoa and toss to combine. Set aside.
Place the haloumi, thyme, lemon zest and oil in a bowl and toss to coat. Heat a non-stick frying pan over high heat. Add the haloumi and cook for 2 minutes. Turn and cook for a further 2 minutes or until golden. Serve with the salad. Serves 4.

There are no comments for this entry yet.