spicy shredded chicken salad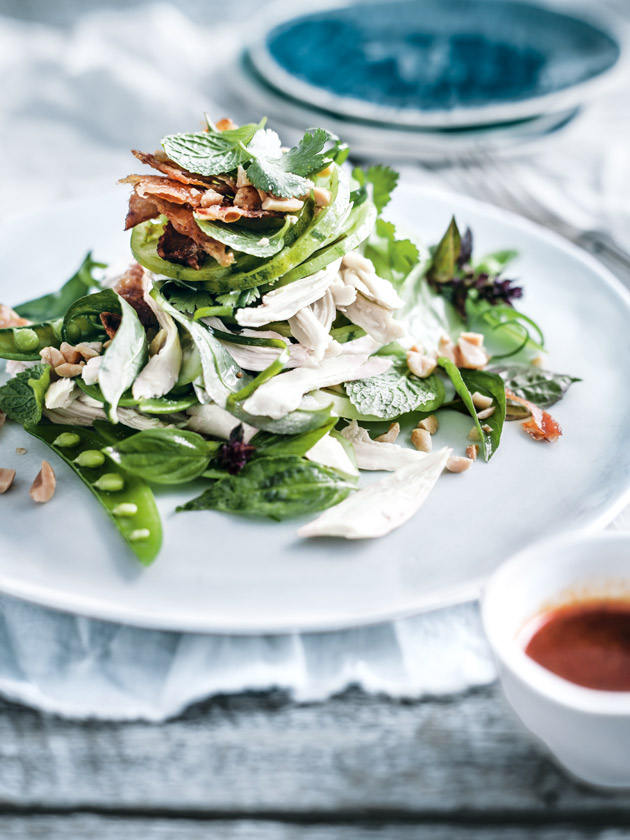 1 x quantity chicken master stock

1 cup mint leaves

½ cup Vietnamese mint leaves

2 cups coriander (cilantro) leaves

1 cup Thai basil leaves

2 Lebanese cucumbers, peeled, seeded and sliced

2 green tomatoes, thinly sliced

150g sugar snap peas, trimmed, blanched and sliced

2 tablespoons chilli jam

⅓ cup (80ml) rice wine vinegar

¾ cup (105g) salted peanuts, chopped

Make the chicken master stock by following the recipe here.

Preheat oven to 220°C (425°F).

Remove the cooked chicken from the broth and carefully remove the skin.

Place the skin on a lightly greased baking tray and cook for 8–10 minutes or until golden and crisp. Place on a wire rack to cool.

Shred the chicken meat, discarding the bones.

Place the shredded chicken, mint, Vietnamese mint, coriander, Thai basil, cucumber, tomato and sugar snap peas in a bowl.

Place the chilli jam and vinegar in a separate bowl and whisk until well combined.

Pour over the salad and toss to combine.

Top with the peanuts and the crispy chicken skin. Serves 4–6.

There are no comments for this entry yet.