tandoori lamb cutlets
with pea, orange and lemon mint salad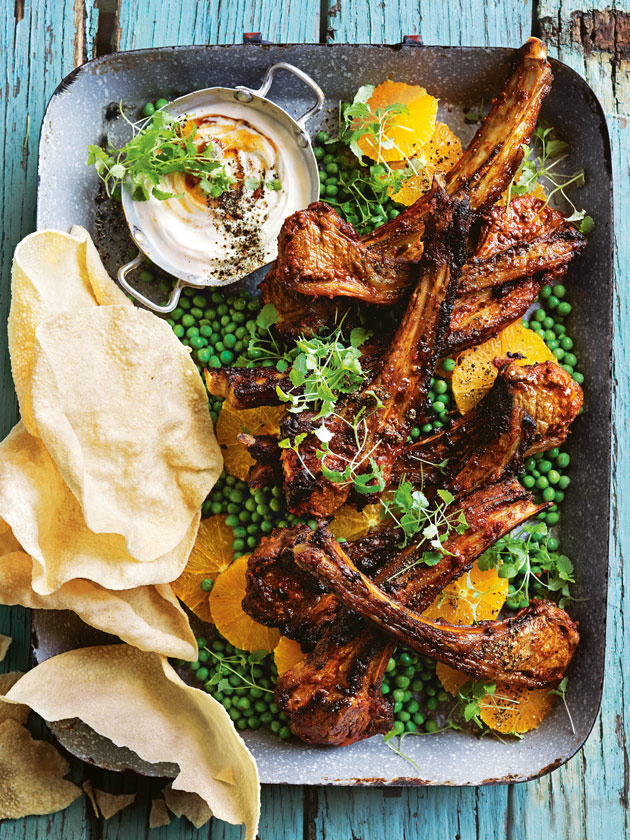 ½ cup (150g) store-bought tandoori curry paste

2 tablespoons lemon juice

1 tablespoon finely grated ginger

12 tomahawk lamb cutlets+

natural Greek-style (thick) yoghurt, mango chutney and pappadums, to serve
pea, orange and lemon balm salad
3 cups (420g) frozen peas, thawed

2 oranges, peeled and thinly sliced

1 eschalot (French shallot), finely chopped

1 cup micro (baby) lemon balm leaves or mint leaves

1 tablespoon lemon juice

sea salt and cracked black pepper

Place the tandoori paste, lemon juice and ginger in a small bowl and mix to combine. Rub the lamb cutlets with the marinade and set aside at room temperature for 10 minutes.

Preheat oven to 200ºC (400ºF). Arrange the cutlets on a lightly greased wire rack set over an oven tray. Roast for 40 minutes or until lightly charred.

While the lamb is roasting, make the salad. Place the peas, orange, eschalot, lemon balm, lemon juice, salt and pepper in a large bowl. Gently toss to combine. Serve the lamb with the salad, yoghurt, chutney and pappadums. Sprinkle with pepper to serve. Serves 4–6.
+ Ask your butcher for tomahawk cutlets or chops. A little more meat and fat are left on the bones for extra flavour.
There are no comments for this entry yet.