thai-style pumpkin, chicken and coconut soup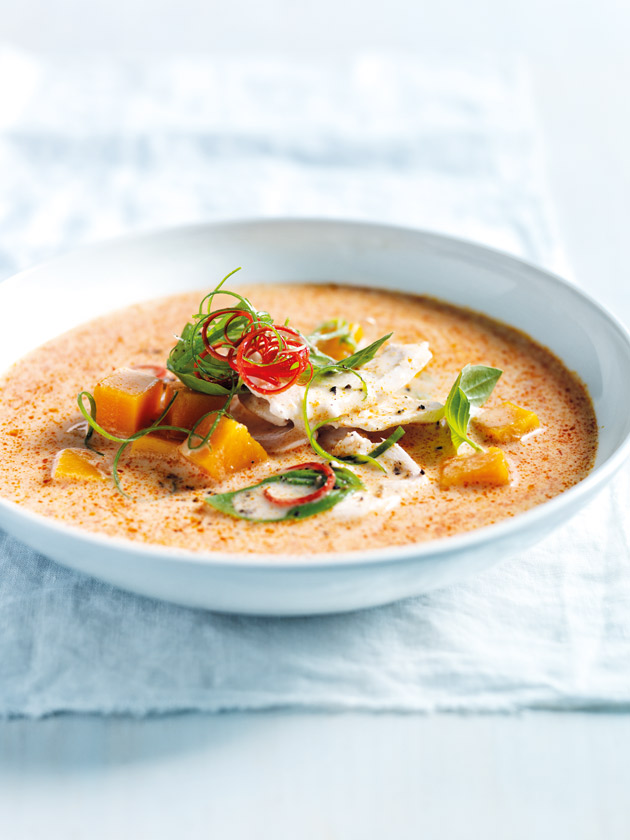 ⅓ cup (85g) Thai red curry paste
1 x 400ml can coconut milk
2 tablespoons brown sugar
3 cups (750ml) chicken stock
800g butternut pumpkin, peeled and chopped
1 tablespoon lime juice
200g chicken breast fillet, thinly sliced
1 thinly sliced long red chilli, green onion and basil leaves, to serve

Heat a large saucepan over medium heat. Add the curry paste and cook, stirring, for 1 minute or until fragrant. Add the coconut milk, sugar and stock and bring to the boil. Add the pumpkin, lime juice and chicken and cook for 8–10 minutes or until the chicken is cooked through and the pumpkin is tender.
Top the soup with the chilli, green onion and basil leaves to serve. Serves 4–6.

Jenny Hargreaves
Really yummy, and easy. Perhaps better to cook the chicken for just the last few minutes so it retains more flavour.
Kevin Saenz
Great meal! we find the red chilli too mild for our liking we throw in 2 or 3 habaneros in to the mix. Still a lovely meal.
Tanya Ramsay
An absolute gem of a receipe. Everyone that tries it raves about it