three-cheese, potato and rosemary tarts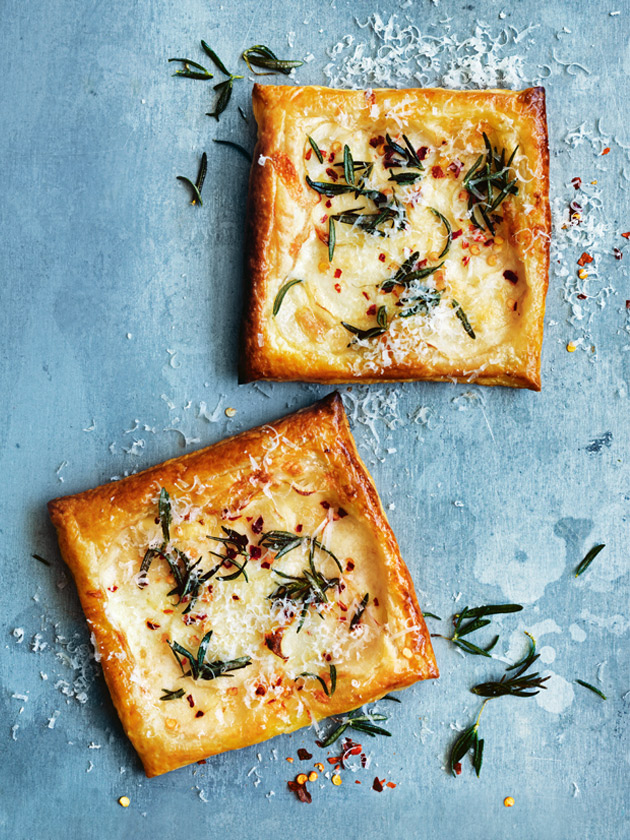 2 sheets frozen butter puff pastry, thawed

1 cup (100g) grated mozzarella

250g bocconcini, sliced

100g baby chat potatoes, thinly sliced

2 teaspoons extra virgin olive oil

sea salt and cracked black pepper

2 tablespoons rosemary leaves

1 teaspoon chilli flakes

½ cup (40g) finely grated parmesan, to serve

Preheat oven to 200°C (400°F). Cut each sheet of pastry into 4 equal squares and lightly prick each with a fork. Using a knife, gently score a 1.5cm border around the edge of each square. Top each pastry square with mozzarella and bocconcini.
Place the potato, oil, salt, pepper and rosemary in a medium bowl and toss to combine. Divide the potato mixture between the pastry squares and place them on 2 trays lined with non-stick baking paper. Bake for 15 minutes or until the potatoes are tender. Sprinkle with the chilli and parmesan to serve. Makes 8.

Candace Pridham
Love this, quick easy and delicious.