beef brisket with
bourbon barbecue sauce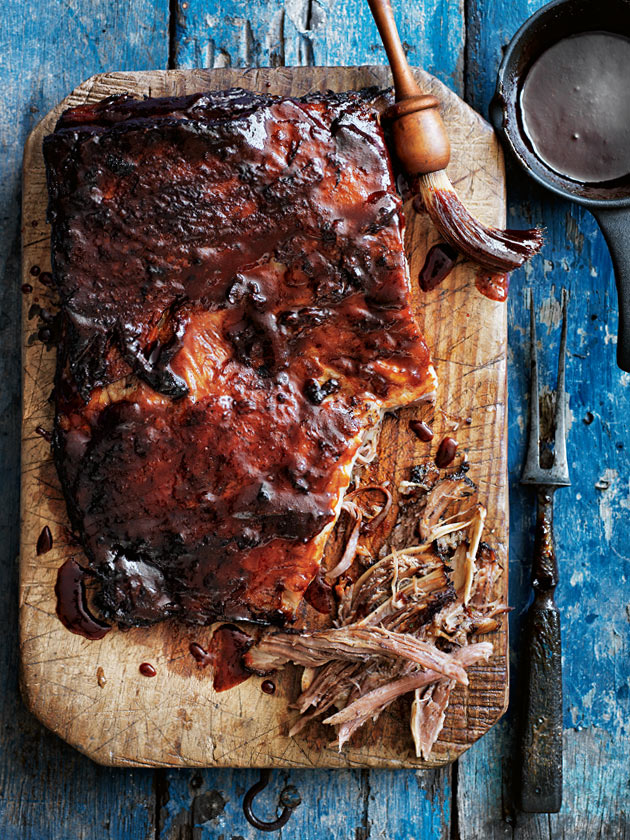 3kg beef brisket, untrimmed

1 head garlic, halved

1 red onion, quartered

3 fresh bay leaves

6 sprigs thyme

1 long red chilli, halved

2 cups (350g) brown sugar

1 tablespoon black peppercorns

1.5 litres water

1 cup (250ml) apple cider vinegar

1 cup (250ml) bourbon

bourbon barbecue sauce
¼ cup (30g) smoked paprika

½ teaspoon cayenne pepper

¼ cup (60ml) apple cider vinegar

1 tablespoon tomato paste

½ cup (175g) honey

1/3 cup (75g) brown sugar

2 teaspoons mustard powder

1 tablespoon bourbon

Preheat oven to 160°C (325°F). Place the beef, fat-side down, in a large, deep-sided roasting pan.
Add the garlic, onion, bay leaves, thyme, chilli, sugar, peppercorns, water, vinegar and bourbon. Cover with aluminium foil and roast for 4 hours or until tender.
Remove the beef from the cooking liquid, discarding the liquid, and allow to rest for 15 minutes.
To make the bourbon barbecue sauce, place the paprika, cayenne pepper, vinegar, tomato paste, honey, sugar and mustard powder in a small saucepan over medium heat and stir to combine. Bring to a simmer and cook, stirring, for 3–4 minutes or until thickened.
Remove from the heat, add the bourbon and stir to combine. Set aside to cool completely.
Preheat a char-grill pan or barbecue over low heat. Pat the brisket dry with absorbent paper and cook, fat-side down, for 6–8 minutes each side or until charred.
Top with the barbecue sauce to serve. Serves 8–10

donna hay team
Hi Andrew, you can reduce the amount of brown sugar to an amount you are more comfortable with. Many thanks, DH team.
Andrew Stewart
Hi there. I cooked this for the family tonight and it was a smash hit. Nothing is left. The sauce has a great bite to it but if anything was a little on the sweet side. Any suggestions best way to back off the sweetness a little?
donna hay team
Hi Karen! Yes - the marinade can be made a day ahead, however the meat can only be marinaded for up to 12 hours before cooking.
Karen Russell
Can the meat marinade prior to cooking? also can the sauce be made ahead of time?
donna hay team
Hi James, as mentioned in an earlier comment - no the paprika quantity is not a mistake. However, you may of course be guided by your personal preference. The dh team
James Cousland
Please confirm if, as suggested, the paprika quantity is a mistake. Cheers
Emma Kemmis
Delicious, we had a fire tonight and cooked the potatoes, sweet potato and corn in the coals. The slow cooked smokey brisket went perfectly. I cooked the brisket in the slow cooker, worked well. I was also surprised with the large quantity of paprika but when simmered and with all the yummy goodness of brown sugar and honey was balanced well.
donna hay team
Hi Julian, the paprika should loose some of its intensity when the sauce cooks. It is a strong sauce by itself but when served with the brisket it matches well. Of course, if you prefer you can always make yours with a little less paprika to your own taste. Happy cooking!
donna hay team
Hi Peter, 3kg of beef brisket will serve approximately 8-10 people. Enjoy! The DH team
Peter Zeegers
How many would 3kg of beef serve?
Julian Regan
I was very disappointed with the sauce as the 1/4 cup of paprika was overpowering and made it inedible. This has to be an error, surely