crispy quinoa chicken wings
with celery and cabbage slaw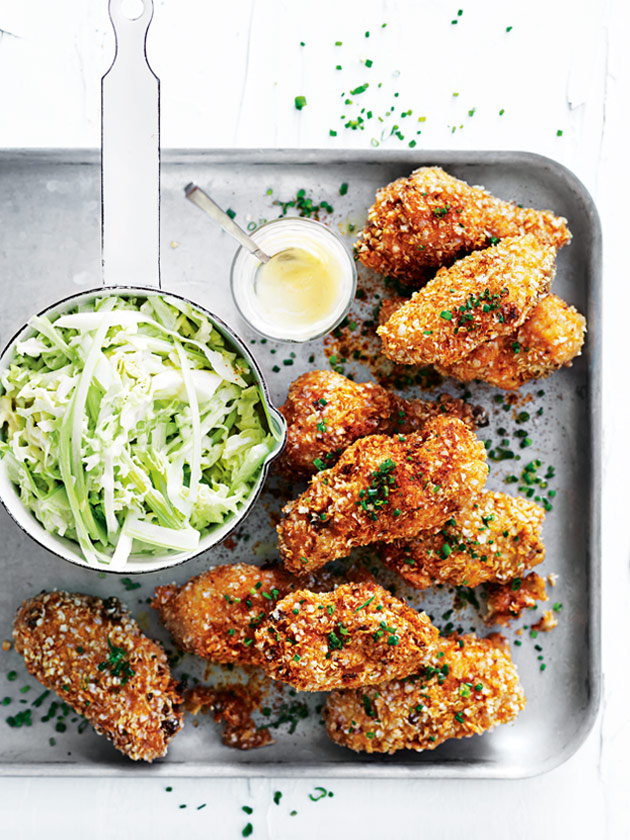 ½ cup (75g) plain (all-purpose) flour

3 eggs, lightly beaten

2½ cups (250g) quinoa flakes

1kg chicken wings, halved at the joint

vegetable oil, for deep-frying

½ cup (150g) whole-egg mayonnaise

1 tablespoon Dijon mustard

3 cups (240g) shredded savoy cabbage

3 stalks celery, shredded

sea salt and cracked black pepper

2 tablespoons finely chopped chives

½ teaspoon cayenne pepper

Place the flour in a medium bowl. Place the eggs in a separate medium bowl. Place the quinoa flakes in a small shallow tray. Dust the chicken in the flour, dip in the egg and coat in the quinoa flakes.
Half-fill a deep-sided large frying pan with oil and place over medium heat until the temperature reaches 160°C (325°F) on a deep-frying thermometer. Cook the chicken, in 2 batches, for 6–8 minutes or until golden brown and cooked through. Drain on paper towel.

While the chicken is cooking, place the mayonnaise and mustard in a large bowl and mix to combine. Set aside half the mixture.
Add the cabbage, celery, salt and pepper to the bowl and mix to combine. Sprinkle the chicken with chives and cayenne and serve with the slaw and reserved mayonnaise mixture. Serves 4.

There are no comments for this entry yet.