harissa lamb
with quinoa, feta, mint and orange salad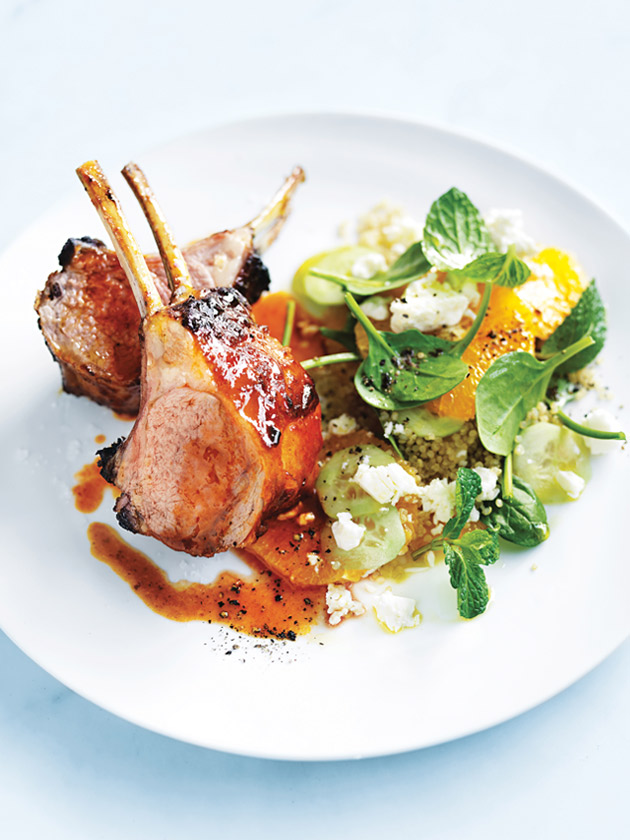 1 tablespoon harissa paste
1 tablespoon honey
1 teaspoon finely grated orange rind
2 tablespoons extra virgin olive oil
sea salt and cracked black pepper
2 x 8-bone (1.2kg) racks of lamb, trimmed
1 cup (200g) white quinoa, cooked
2 Lebanese cucumbers, peeled and sliced
2 oranges, peeled and thinly sliced
2 cups baby spinach leaves
1 cup mint leaves
250g feta, crumbled
1 tablespoon lemon juice

Preheat oven to 220°C (425°F). Mix to combine the harissa, honey, orange rind, half the oil, salt and pepper and brush over the lamb. Place on a large baking tray lined with non-stick baking paper and roast for 20 minutes for medium rare or until cooked to your liking.
Place the quinoa, cucumber, orange, spinach, mint, feta, remaining oil, lemon juice, salt and pepper in a bowl and toss to combine. Slice the lamb and serve with the salad. Serves 4.

donna hay team
Hi Keiko, glad to hear you loved the recipe and of course you could add a herb sauce if you prefer. Enjoy!
Keiko Monte
this recipe really surprised us. It is so easy to make and taste great. I am wondering if I could serve it a little bit of herb source on the side? Thank you for the great recipe!