lamb shank pies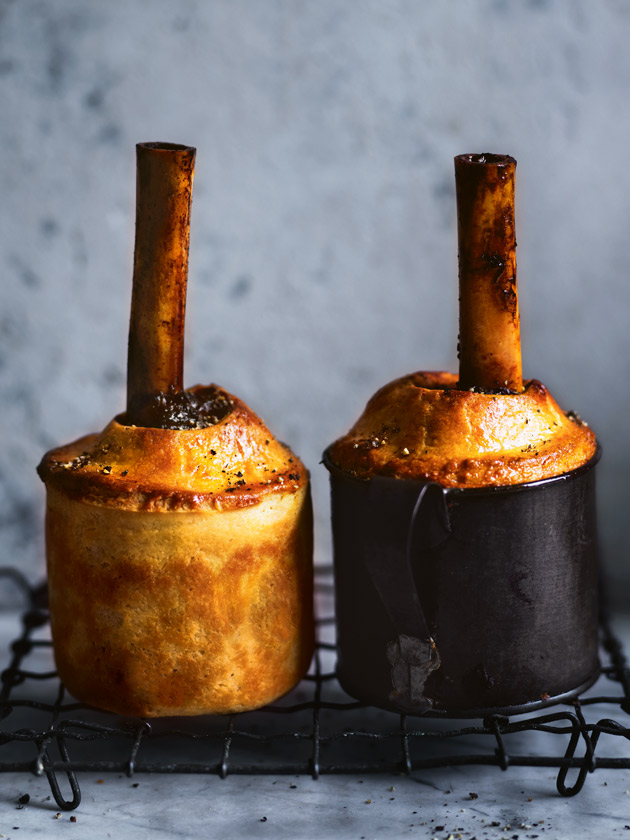 ½ cup (75g) plain (all-purpose) flour

sea salt and cracked black pepper

1 tablespoon olive oil

4 x 250g lamb shanks

1 brown onion, chopped

2 cloves garlic, crushed

400g can cherry tomatoes

3 cups (750ml) beef stock

½ cup (125ml) red wine

1 tablespoon finely chopped rosemary leaves

1 teaspoon caster (superfine) sugar
pastry
300g unsalted butter, chopped

1 teaspoon sea salt flakes

1⅓ cups (330ml) water

5 cups (750g) plain (all-purpose) flour, plus extra for dusting

1 egg, lightly beaten

Place the flour, salt and pepper in a small bowl and mix to combine. Heat the oil in a large, heavy-based saucepan over high heat. Dust the lamb shanks in the flour and cook for 3–4 minutes or until well browned. Remove from the pan and set aside. Add the onion, garlic, tomatoes, stock, wine, rosemary and sugar to the pan and bring to the boil. Return the lamb shanks to the pan, cover with a tight-fitting lid, reduce heat to medium and cook for 1½ hours or until lamb is tender.

Preheat oven to 200ºC (400ºF). To make the pastry, place the butter, salt and water in a medium saucepan over high heat and bring to the boil. Remove from the heat and stir in the flour until a smooth dough forms. Turn out onto a lightly floured surface and knead until smooth and elastic. Roll the pastry out to 2mm-thick and cut out 4 x 21cm rounds.

Line 4 x 8½cm-high x 7½cm-wide well-greased dariole moulds with the pastry. Divide the shanks, bone-side up, and sauce between moulds. Roll remaining pastry out to 2mm-thick and cut 4 x 10.5cm rounds from the pastry. Cut a hole from the centre of each round and place over the pies. Press to seal and trim excess. Brush with egg and cook for 30 minutes or until pastry is golden. Turn out onto a plate to serve. Serves 4
Photography: Ben Dearnley
Rebecca Mcintosh
The filling was delicious but finding dariole moulds this size was hard. I attempted using a ramekin but the pastry has no hold so that was a fail. I ended up making one big pie with four shanks sticking out the top - delicious.
TIP: get your shanks from the butcher. Ask for them to cut the bottom of the shank flat (the shanks from woolworths/coles aren't flat so they won't sit tall). Keep these offcuts. I cooked the offcuts and used it as extra meaty filling.
donna hay team
Hi Elyse, These tins are a vintage prop, however you can use 4 x 8½cm-high x 7½cm-wide dariole moulds instead. Happy cooking! DH Team
elyse hradecky
absolutely stunning! I'm having difficultly finding similar sized moulds - would you mind sharing where you found yours? thank you
Andrew Stewart
Cooked this today. Couldn't find the right tins to bake it in so removed the flesh from the lamb shank bones and made a ragu. Then baked pot pies in ramekins. Wow. Very yum. However, after baking the shanks in the oven and removing them from the liquids, we reduced it over high heat for about 30 minutes and then had to add some corn flour to thicken it up to a consistency we felt was appropriate for a pie. Worked well. The pot pies probably needed 40-50 min in the oven to cook the pastry properly.