lobster ravioli
with horseradish butter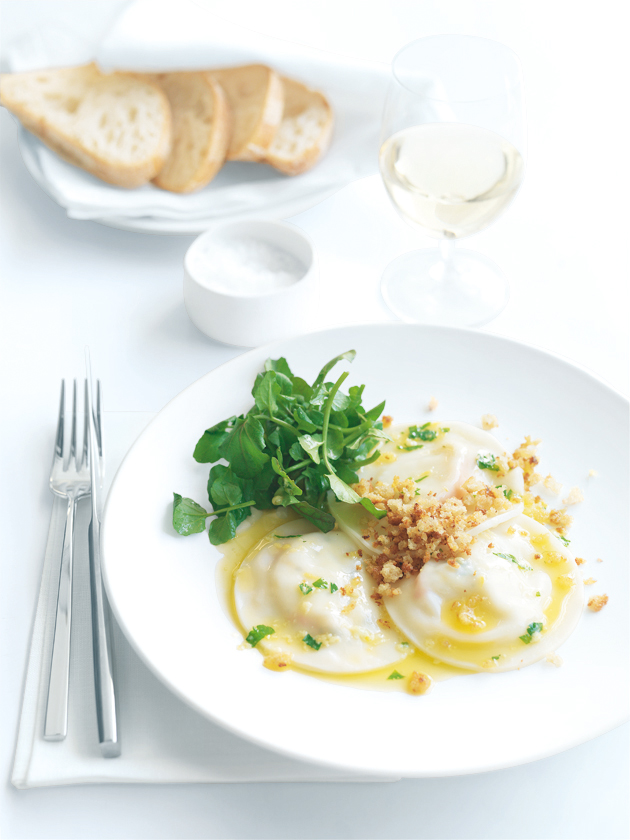 80g butter, softened

2 cloves garlic, crushed

1/3 tablespoon flat-leaf parsley, chopped

20g fresh horseradish, peeled and grated

1 tablespoon finely grated lemon rind

sea salt and cracked black pepper

1 x 340g fresh lobster, meat removed and sliced into 12 rounds+

24 gow gee wrappers

50g watercress, to serve

garlic and lemon crumbs
1 tablespoon olive oil

1 cup (70g) fresh breadcrumbs

1 clove garlic, crushed

1 tablespoon finely grated lemon rind

Place the butter, garlic, parsley, horseradish, lemon rind, salt and pepper in a bowl and mix to combine. Set aside.
To make the garlic and lemon crumbs, heat the oil in a large non-stick frying pan over high heat. Add the breadcrumbs and cook for 4 minutes or until golden. Add the garlic, lemon rind, salt and pepper and cook for a further 1 minute. Set aside.
Place a slice of lobster into the centre of 12 gow gee wrappers. Top with ½ teaspoon of the horseradish butter. Brush edges with water, top with remaining wrappers and press the edges to seal.
Cook the ravioli in a saucepan of salted boiling water for 6–8 minutes or until al dente. Melt the remaining horseradish butter and drizzle over the ravioli. Top with the crumbs and serve with the watercress. Serves 4.

+ Remove the head of the lobster and discard, before cutting down either side of the tail to carefully remove the meat.
There are no comments for this entry yet.