orange and maple-braised lamb shanks
with mint sauce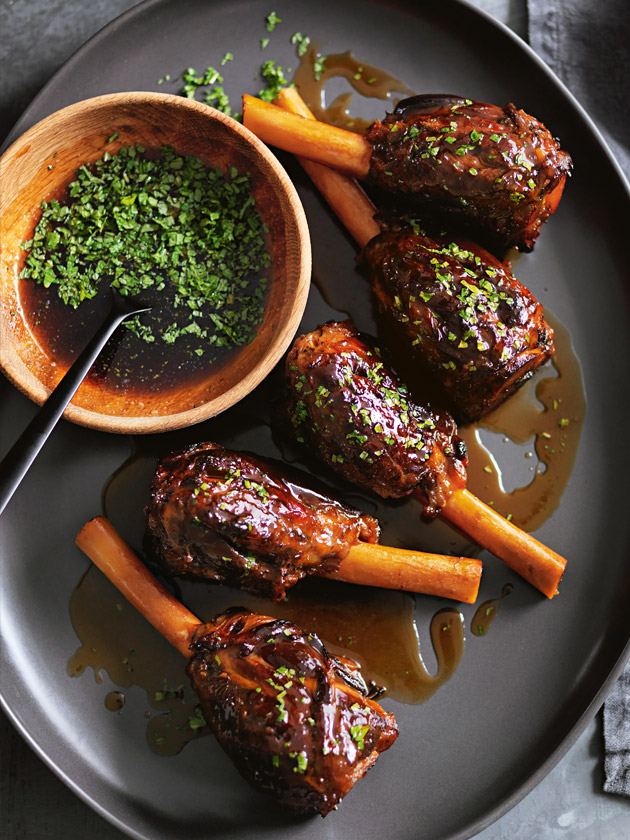 1 tablespoon extra virgin olive oil

12 x 320g lamb shanks, trimmed

sea salt and cracked black pepper

1 litre chicken stock

8 cloves garlic, crushed

¾ cup (180ml) maple syrup

½ cup (90g) brown sugar

½ cup (125ml) malt vinegar

peel of 1 orange

½ cup (125ml) orange juice

4 rosemary sprigs
mint sauce
¾ cup (180ml) malt vinegar
1 cup (175g) brown sugar

2 cups mint leaves, finely chopped

Preheat oven to 180°C (350°F). Heat the oil in a large non-stick frying pan over high heat. Sprinkle the lamb with salt and pepper and cook, in batches, for 2–3 minutes each side or until browned. Place in a large deep-sided roasting pan and set aside.

Wipe out the frying pan and add the stock, garlic, maple syrup, sugar, vinegar, orange peel and juice and the rosemary. Bring to the boil and pour over the lamb shanks. Cover tightly with aluminium foil and roast, turning the shanks half way through cooking, for 2½ hours or until the shanks are tender. Increase the oven temperature to 220°C (425°F). Remove the foil and roast, uncovered, turning the shanks every 15 minutes, for a further 45–50 minutes or until glossy and sticky.

While the lamb is cooking, make the mint sauce. Place the vinegar and sugar in a small saucepan over medium heat and stir until combined. Bring to the boil and cook for 5–6 minutes or until just thickened. Allow to cool completely, add the mint and stir to combine.
Place the lamb shanks on a serving dish. Strain the liquid from the pan and skim off any fat. Serve lamb with the pan juices and mint sauce. Serves 12.
Tip: You can make the shanks 1 day in advance. To reheat, place in a preheated 200°C (400°F) oven with their cooking liquid, covered in foil, for 20 minutes or until warmed through.
donna hay team
Hi Lisa, All our recipes are tested in fan-forced ovens. Happy cooking!
Lisa Cutajar
Is the oven temperature for conventional or fan forced?
Maureen Bradshaw
I cooked this recipe for Easter Sunday Lunch! Served with Julia Child's garlic mash. I don't usually review recipes, but this is exceptionally delicious!
I strained the juices through a sieve and left the juice in the fridge overnight. Removed a considerable fat layer in the morning before I reheated and poured over the shanks. Raves all around the table
Heidi Ellis
Every time I've made this, the plates are left empty wanting more!!! This is a gorgeous receipe to impress and comfort the soul
donna hay team
Hi, Andrew. We think any roast root vegetable would be a perfect match, or even a simple mashed potato. Enjoy! The DH Team.
andrew colgan
Looks Great think i might do this on Saturday, just wondering what side dishes would pair well with this??
donna hay team
Hi Danielle, In our test kitchens we do not have slow cookers and unfortunately have not tested this recipe in a slow cooker. However if you follow the manufactures instructions it should be ok to cook in a slow cooker. Thanks, dh team
donna hay team
Hi Diane, yes that is fine - you can substitute malt vinegar for apple cider vinegar. Thanks, dh team
Danielle Arenson
Great recipe! For coeliac friendly, can I replace the Malt Vinegar with Apple Cider Vinegar? Or should I use another substitute? Thanks!
Diane Newkirk
Could you cook this in a slow cooker?
Paul Belcher
I'm going to try this in the slow cooker
Tags:
dinner
,
dinner party
,
easy dinners
,
lamb
,
maple
,
maple syrup
,
mint sauce
,
orange
,
rosemary
,
sunday roast
,