porcini crumb pasta
with oregano and stracchino cheese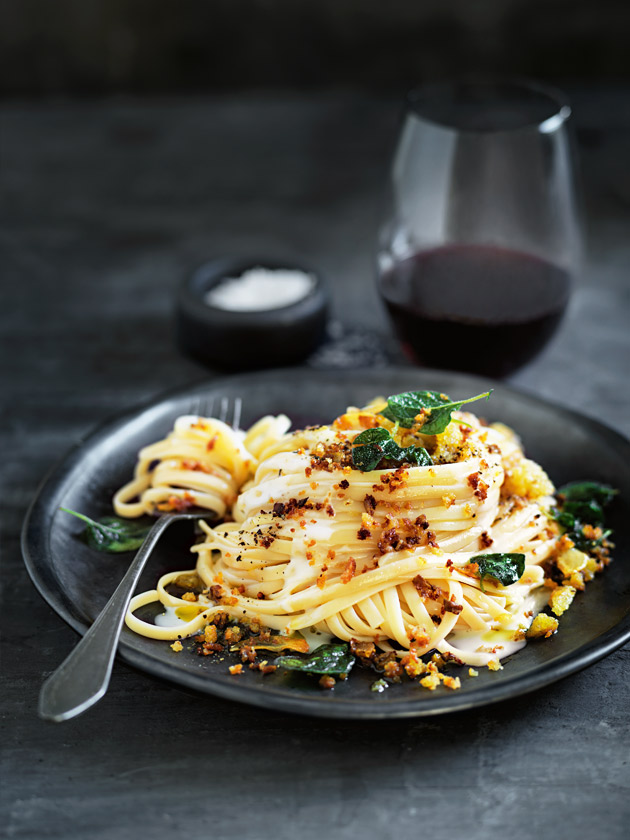 ½ cup (20g) sliced dried porcini mushrooms
¾ cup (180ml) boiling water
2 tablespoons extra virgin olive oil
½ cup oregano leaves
45g unsalted butter, chopped
4 cloves garlic, thinly sliced
1½ cups (105g) sourdough breadcrumbs
salt flakes and cracked black pepper
400g angel hair pasta
200g stracchino cheese, to serve+
Place the mushroom and water in a small heatproof bowl and set aside to soak for 5 minutes. Carefully remove the mushroom, squeezing out any excess liquid and reserving the stock. Finely chop the mushroom and set aside.

Heat the oil in a large non-stick frying pan over high heat. Add the oregano and cook for 30 seconds or until crisp. Remove and set aside. Add the butter and cook for 30 seconds or until melted. Add the garlic, chopped mushroom and breadcrumbs, salt and pepper and cook, stirring occasionally, until golden. Set aside and keep warm.

While the breadcrumb mixture is cooking, cook the pasta in salted boiling water for 6-8 minutes or until al dente. Drain and return to the saucepan over low heat. Add the reserved mushroom stock, and half the cheese and toss to combine. Add half the breadcrumb mixture and gently toss to combine. Divide the pasta between 4 bowls and top with the remaining cheese, the remaining breadcrumb mixture, and the crispy oregano to serve. Serves 4.


+ Stracchino is available from delicatessens and cheese stores. If you can't find it, you can substitute with any soft milk washed rind cheese for this recipe.
Wine pairing note: With its cherry, plum, smoke and toasty oat notes, Cloudy Bay Pinot Noir 2015 is an ideal match for umami-rich porcini and stracchino cheese. Best served together on a cool winter's evening.
Photography: William Meppem
There are no comments for this entry yet.