roasted turkey
with cranberry and sage stuffing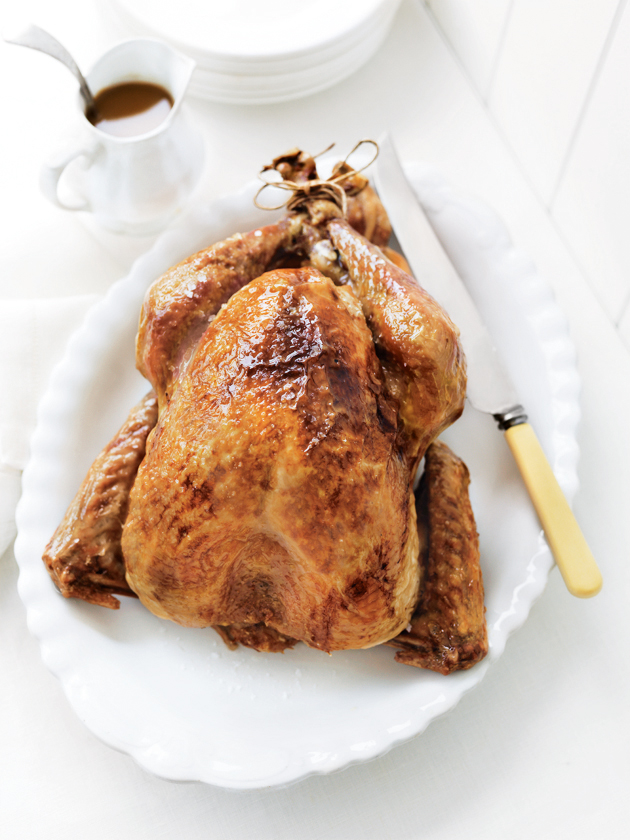 60g butter, softened
1 tablespoon grated lemon rind
sea salt and cracked black pepper
1 x 4.5 kg turkey
olive oil, for brushing
1½ cups (375ml) chicken stock
cranberry and sage stuffing
2 tablespoons olive oil
2 brown onions, chopped
2 cloves garlic, crushed
4 cups (280g) fresh breadcrumbs
¼ cup sage leaves, chopped
1 cup (150g) dried sweetened cranberries
1 tablespoon finely grated orange rind
50g butter, melted
gravy
10–12 ice-cubes
¼ cup (40g) plain (all-purpose) flour
3 cups (750ml) chicken stock
3 tablespoons cranberry jelly
1 cup (250ml) dry white wine

Place the butter, lemon, salt and pepper in a bowl and stir to combine. Set aside.
To make the cranberry and sage stuffing, heat the oil in a large non-stick frying pan over medium heat. Add onions and garlic and cook 8–10 minutes until softened. Remove from the heat, add the breadcrumbs, sage, cranberries, orange rind and butter and stir until well combined. Set aside. Preheat oven to 180ºC (350ºF).
Gently loosen skin from the turkey breast meat and push the butter under. Spoon stuffing into the cavity, secure with a skewer and tie legs with kitchen string. Place the turkey on a lightly greased wire rack in a baking dish. Brush with oil, sprinkle with salt and pepper and pour stock into the dish. Cover with lightly greased aluminium foil and roast for 1½ hours. Remove foil and roast for a further hour – 1½ hours, basting every 15 minutes with the stock, or until skin is golden and juices run clear when tested with a skewer+.
To make the gravy, remove turkey from the baking dish, cover with aluminium foil and keep warm. Pour the pan juices into a jug with the ice cubes and allow the fat to solidify. Skim off 2 tablespoons of the solidified fat and return to the baking dish. Discard the remaining fat in the jug, reserving the pan juices. Add the flour to the reserved fat and stir over medium heat for 2–3 minutes or until the paste is a golden colour. Add the stock and cranberry jelly to the pan juices. Gradually whisk the wine into the flour mixture until well combined. Gradually add the stock mixture to the flour mixture, whisking continuously. Bring to the boil and simmer for 4–5 minutes until thickened. Slice the turkey and serve with the stuffing and gravy. Serves 8.

+ Allow 18–20 minutes cooking time per 500g of stuffed turkey.
There are no comments for this entry yet.