slow-cooked beef brisket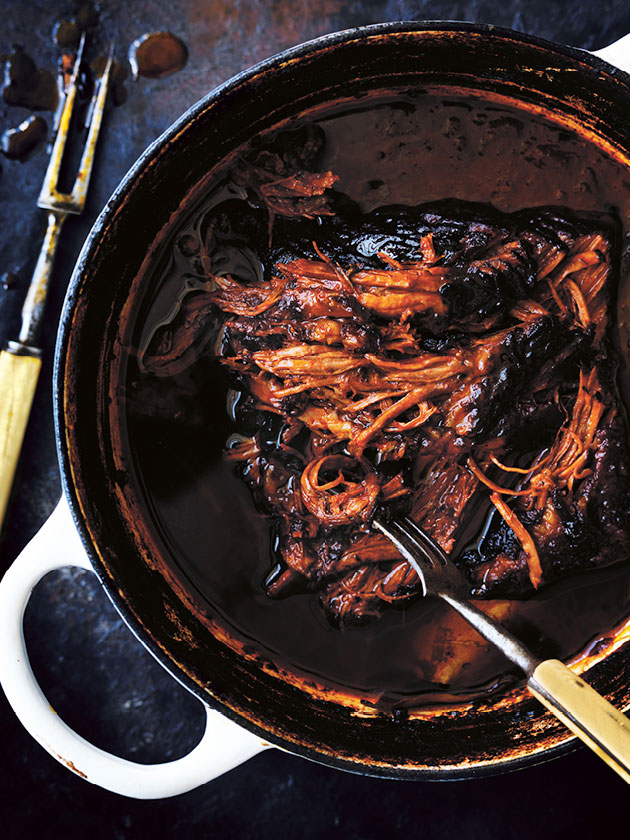 2 tablespoons extra virgin olive oil

1.5kg beef brisket, trimmed and cut into 4 pieces+

1 onion, finely chopped

3 cloves garlic, thinly sliced

1 cup (250ml) red wine

2 cups (500ml) beef stock

2 cups (500ml) water

3 cups (750ml) tomato puree (passata)

6 bay leaves

sea salt and cracked black pepper

Preheat oven to 180°C (350°F).

Heat half the oil in a large ovenproof heavy-based saucepan over medium heat. Add the beef and cook for 4–5 minutes each side or until browned. Remove from the pan and set aside.

Add the remaining oil, the onion and garlic to the pan and cook, stirring, for 4–5 minutes or until softened.

Add the wine and cook for 3–4 minutes or until reduced by half. Add the stock, water, puree, bay leaves, salt and pepper and stir to combine. Return the beef to the pan, with any juices, and bring to a simmer.

Cover with a tight-fitting lid, transfer to the oven and cook, turning the beef halfway through cooking time++, for 3 hours or until very tender.

Remove the beef from the sauce and place on a tray. Using 2 forks, shred the meat. Return the beef to the sauce and stir to combine. Remove and discard the bay leaves to serve. Serves 4–6
+ By cutting the beef into 4 pieces before you begin, you reduce the time it takes to cook.
++ For beautifully tender beef that's evenly cooked, ensure you turn it over halfway through the cooking time.
TIP
This slow-cooked brisket can be made 2–3 days in advance. It freezes well, too – simply thaw and reheat to serve.
H Pearson
I've made this brisket so many times now - it's a big family favourite (especially in Donna's lasagne recipe)! I only use one cup of water now and it gives a thicker sauce.
Claire Sands
Wow!!! Prepped this little beaut recipe today in my slow cooker ...only had a 1.9kg brisket available and cooked beautifully- same recipe and added some mushrooms halfway through the 8 hr cook on low ~ removed meat, left lid off and cranked on high for an hour or so to reduce and thicken the mouthwatering sauce… AMAZING ! Served with creamy mash and broccoli
Phil Harrison
Kate Pearce, I sure did. Partly so it would fit in the slow cooker, but mainly so I could brown all those extra surfaces at the start.
Phil Harrison
Hi Kate,
Yes I did, mainly so it'd fit in the Sunbeam, but you also get more meat in direct contact with the liquid which I figure has gotta be good.
I know it was really intended to help with the cooking time, but I started at 9am so that wasn't really an issue.
Got the full 1.5kg this week, so I'm eager to try again!
Kate Pearce
Phil Harrison, did you still cut the brisket into 4?
Phil Harrison
Those wondering about adapting this for a slow cooker… I made this yesterday, using the same quantities as the recipe (except I only had 1kg of brisket). Cooked on LOW for 8 hours, turning over halfway through. There was quite a bit of liquid left (maybe due to the smaller amount of meat I used, or just the slow cooker itself), but I just reduced it down a bit by cranking up the heat while I shredded the beef. Absolutely delicious in the pot pies (recipe - if you actually need one - is in the "Basics to Brilliance" book), and smells amazing while cooking. I'm going to throw out all my scented candles and just buy brisket from now on!
Nicole Sly
Is a 24cm, 4.2L Le Creuset cast iron casserole dish suitable for this recipe? If not, what size should I use?
Lindsay Hawkins
Hi Donna, I accidentally used chicken stock instead of beef. I found it a touch bland at first but turned the pappardelle into a Arabiata and everyone loved it!! thanks.
donna hay team
Hi John, most butchers will have brisket - however they will cut it into different cuts (eg braising cuts etc) If you have a local butcher you could try ordering ahead - that way they will keep it whole for you. Good luck! The DH team
donna hay team
Hi Ross, make sure you bring your liquid to a simmer before putting it in the oven to ensure the heat is even. If your sauce has not reduced to your liking, you can remove the brisket and reduce the liquid before shredding. The DH team
Ross Parsons
First time I cooked this it worked perfectly!!! Tasted amazing. The last two times the sauce hasn't reduced much at all. Any ideas what I might be doing wrong? I will try to crack the lid a little and see if that works.
John McMaster
Hi, I'm having trouble finding beef brisket that is not already marinated or pickled. Can you suggest an alternative cut?
donna hay team
Hi Jessica and Angela, we have not tested this recipe in a slow cooker but I am sure after you brown the meat and cook the onions in a heavy based pan you could transfer it to a slow cooker and follow the manufacturer's cooking times as a guide. Good luck! The DH team
Jessica Major
Hi there. I was also wondering what Angela asked… can this be adapted to a slower cooker recipe? Thanks very much
Angela N
Hi, this looks absolutely delicious. I was just wondering if this could be adapted to work for a slow cooker as I am at work for long hours and often don't have time when I get home. Cheers Angela