slow-cooked lamb
with pistachio honey dressing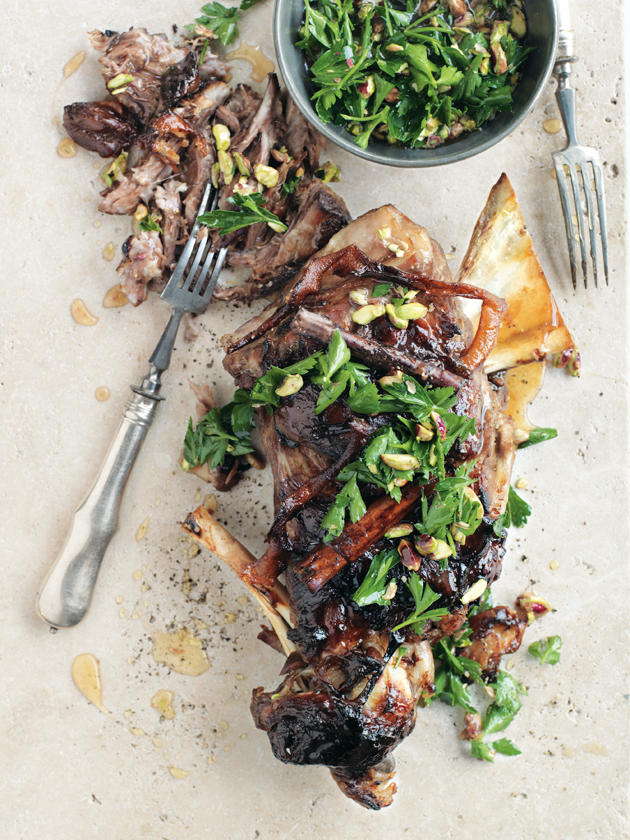 2kg lamb shoulder, bone in
6 cloves garlic
½ cup (125ml) red wine vinegar
¼ cup (45g) brown sugar
rind of 1 orange
2 sticks cinnamon
pistachio dressing
½ cup (175g) honey
1 tablespoon red wine vinegar
½ cup (70g) sliced pistachios
2 cups flat-leaf parsley leaves, roughly chopped
Preheat oven to 180°C (350°F). Place the lamb, garlic, vinegar, sugar, orange and cinnamon in a baking tray and cover with aluminium foil. Roast for 2½ hours, remove foil and roast for a further 30 minutes until golden.
To make the pistachio dressing, place the honey and vinegar in a bowl and mix to combine. Add the pistachio and parsley and stir to combine. Top lamb with the pistachio dressing to serve. Serves 4–6

Mal Connellan
I love this recipe, I substitute lamb shanks for the shoulder, never had a bad result
donna hay team
Hi Kim! The lamb should be shreddable once cooked. Enjoy!
Kim Davis
Does this result in 'carved' or a 'fall off the bone' result?
Trudy-Ann King
This is a sensational recipe. I was a little nervous pouring the dressing over the meat as it tasted very sweet on its own but the result was delicious. Super moist and succulent. I served it with a herby quinoa, fetta and pomegranate salad and roasted pumpkin.