spiced buttermilk fried chicken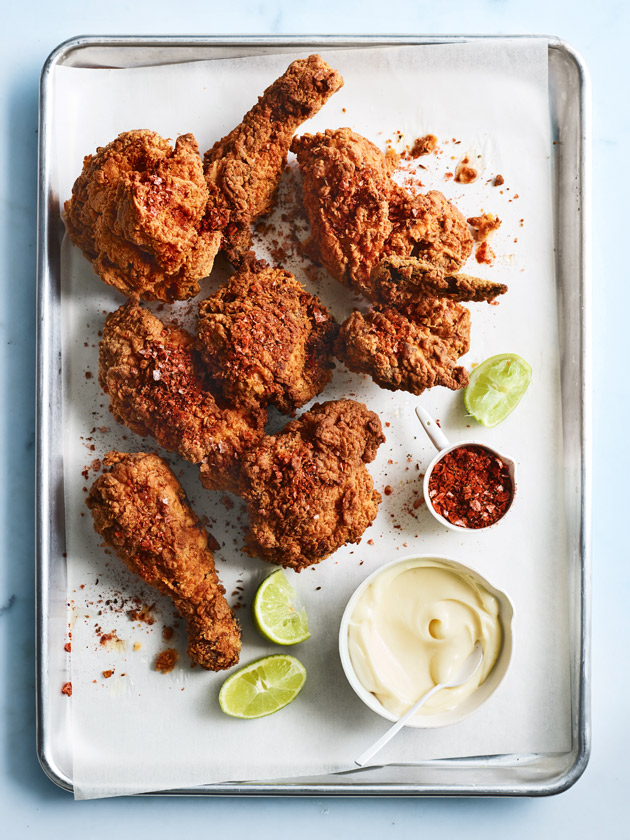 2 teaspoons cracked black pepper

1 tablespoon smoked paprika

1 tablespoon caraway seeds

1 teaspoon cayenne pepper

2 teaspoons sea salt flakes

2 cloves garlic, crushed

1.4kg chicken pieces

600ml buttermilk

3 cups (450g) plain flour

2 tablespoons baking powder

vegetable oil, for deep-frying

mayonnaise and lime wedges, to serve

Place the pepper, paprika, caraway and cayenne in a mortar and pound with a pestle until finely crushed. Place half of the spice mixture in a small bowl, add the salt and mix to combine. Set aside.

Place the remaining spice mixture in a large bowl, add the garlic and chicken and toss well to coat. Pour over the buttermilk and refrigerate for 40 minutes. Set aside.

Divide the flour and baking powder between 2 large zip-lock bags. Divide the chicken between the 2 bags, discarding the buttermilk. Seal and shake to coat.

Half-fill a large deep-sided saucepan with the oil and place over medium heat until the temperature reaches 180°C on a deep-frying thermometer. Cook the chicken, in batches, for 6–8 minutes or until golden and cooked through. Remove with a slotted spoon, drain on paper towel and keep warm. Sprinkle with the reserved spice mixture and serve with the mayonnaise and lime wedges. Serves 4.
tips + tricks
+ While the chicken is cooking, the temperature will drop from 180°C to 160°C. Bring the temperature back up to 180°C before starting the next batch.
+ To keep the chicken warm, place on a wire rack over an oven tray in the oven preheated to 150°C.
There are no comments for this entry yet.