thick-cut grilled steak
with crispy potato, burnt butter and oregano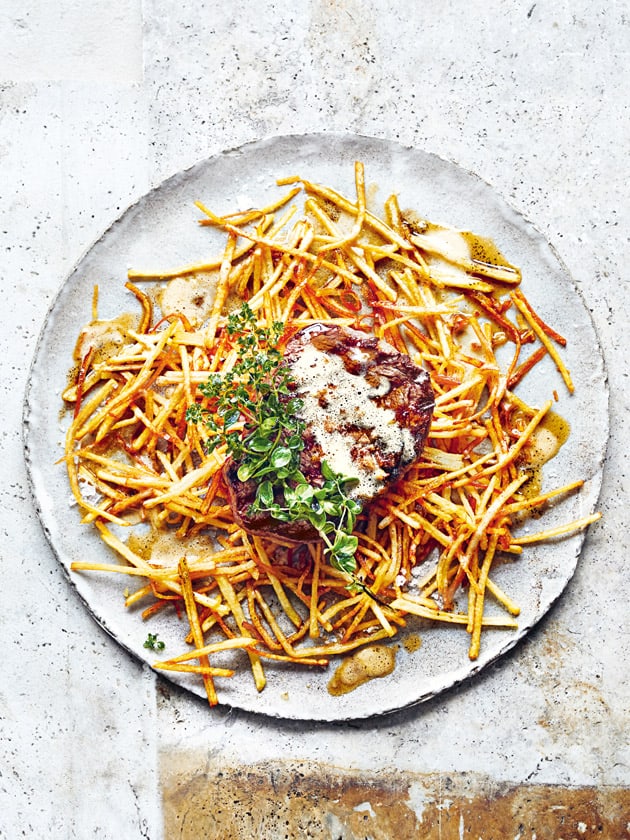 500g rock salt

4 x 220g centre-cut beef eye fillet steaks, tied

1 tablespoon extra virgin olive oil

8 cloves garlic, skins on

vegetable oil, for deep-frying

2 medium potatoes (500g), peeled and shredded

100g unsalted butter, chopped

4 sprigs oregano

sea salt flakes, to serve

Place half of the salt on a small oven tray. Top with the steaks and cover with remaining salt. Refrigerate for 40 minutes. Remove the steaks from the fridge, brush off the salt and set aside at room temperature for 20 minutes.
Preheat oven to 200°C (400°F). Preheat a chargrill pan to high. Brush the steaks with olive oil and cook for 4 minutes on each side. Place on an oven tray, add the garlic and cook for 8 minutes or until rare. Cover loosely with aluminium foil and keep warm.
While the steaks are cooking, fill a large saucepan two-thirds full with vegetable oil and place over medium heat until the oil reaches 180°C (350°F) on a deep-frying thermometer. Add the potato, in four batches, and cook for 2–3 minutes or until golden and crisp. Set aside on paper towel to drain.
Heat a small frying pan over high heat. Add the butter and roasted garlic and cook for 4 minutes or until nutty brown. Add the oregano and cook for 30 seconds or until crisp. Divide the potato between plates. Top with the steaks. Spoon over the butter and garlic, top with the oregano and sprinkle with salt to serve. Serves 4.
There are no comments for this entry yet.