three-cheese eggplant involtini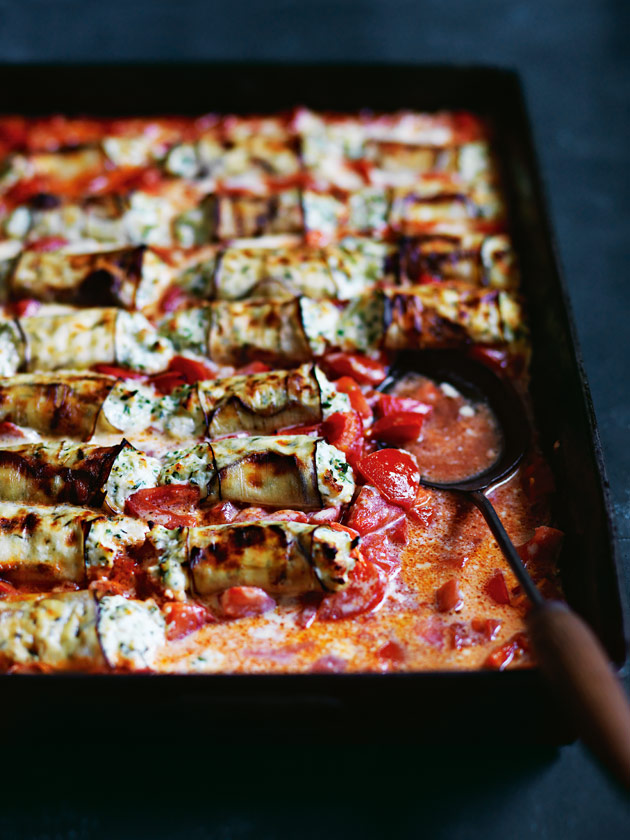 2 Italian (Antigua) eggplants (500g)

2 tablespoons extra virgin olive oil, plus extra for brushing

2 cups (480g) ricotta

2 teaspoons finely grated lemon rind

2 cups (150g) grated provolone

1 cup (80g) grated ricotta salata

½ cup tarragon leaves, finely chopped

½ cup flat-leaf parsley leaves, finely chopped

sea salt and cracked black pepper

1.5kg truss tomatoes, chopped

¼ cup (70g) tomato paste

⅓cup (80ml) vincotto+

⅓ cup (80ml) single (pouring) cream

Preheat oven to 220°C (425°F). Using a mandolin, slice the eggplants lengthways into 24 x 3mm-thick slices. Lightly brush each slice with the extra oil and divide between 2 large baking trays lined with non-stick baking paper. Roast for 4–5 minutes or until lightly golden. Set aside.

Place the ricotta, lemon rind, provolone, ricotta salata, tarragon, parsley, salt and pepper in a large bowl. Mix to combine and set aside. Place the tomato, tomato paste, vincotto and oil in a large bowl and mix to combine. Transfer to a 24cm x 38cm (3.5-litre capacity) ovenproof dish.
Place 1 tablespoon of the ricotta mixture on each slice of eggplant and roll to enclose. Place on top of the tomato mixture and drizzle with the cream. Reduce oven to 200°C (400°F) and roast for 20–25 minutes or until golden and bubbling. Divide between plates to serve. Serves 6–8.
+ Vincotto, meaning 'cooked wine', is a sticky-sweet Italian condiment made from grapes. Find it at delicatessens and specialty food stores.
There are no comments for this entry yet.
Tags:
baked
,
comfort food
,
dinners
,
easy weeknights
,
eggplant
,
parsley
,
provolone
,
ricotta
,
tomatoes
,
vegetarian
,
vincotto
,