marmalade bread and butter pudding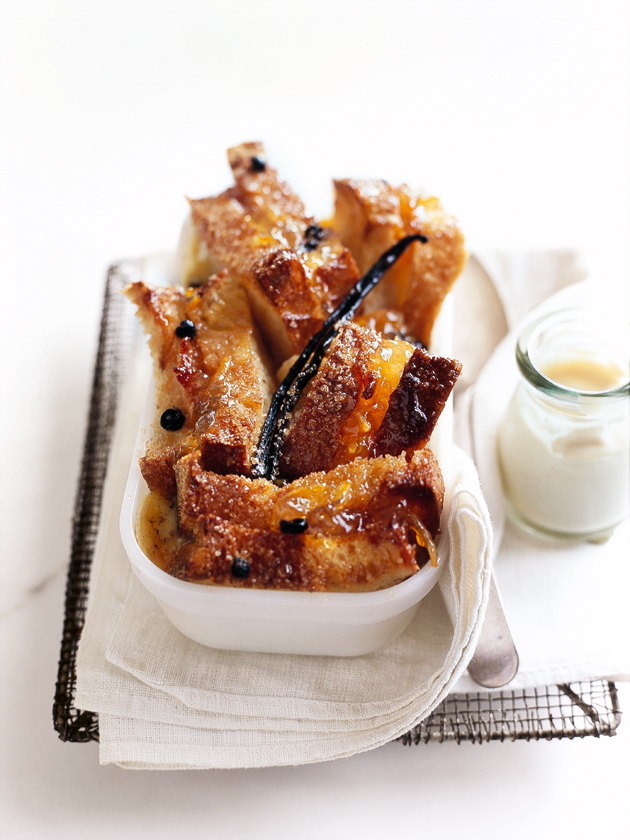 softened butter, for spreading

8 thick slices bread

1 cup (340g) marmalade

2 cups (500ml) milk

1 cup (250ml) single (pouring) cream

3 eggs

½ cup (110g) caster (superfine) sugar

1 vanilla bean, split and seeds scraped

¼ cup (40g) currants

2 tablespoons Demerara sugar

custard, ice-cream or double (thick) cream, to serve

Preheat oven to 160ºC (320ºF). Butter the bread slices, spread half with marmalade and sandwich with remaining slices.

Cut in half and arrange in 2 x 3 cup-capacity (750ml) ovenproof dishes. Place the milk, cream, eggs, caster sugar and vanilla bean and seeds in a bowl and whisk to combine. Stir in the currants and pour over the bread. Allow to soak for 1–2 minutes. Sprinkle over the Demerara sugar and place in a large deep baking dish. Add enough boiling water to come halfway up the sides of the dishes. Bake for 1 hour 5 minutes or until just set. Serve with custard. Serves 6.

There are no comments for this entry yet.