meringue christmas wreaths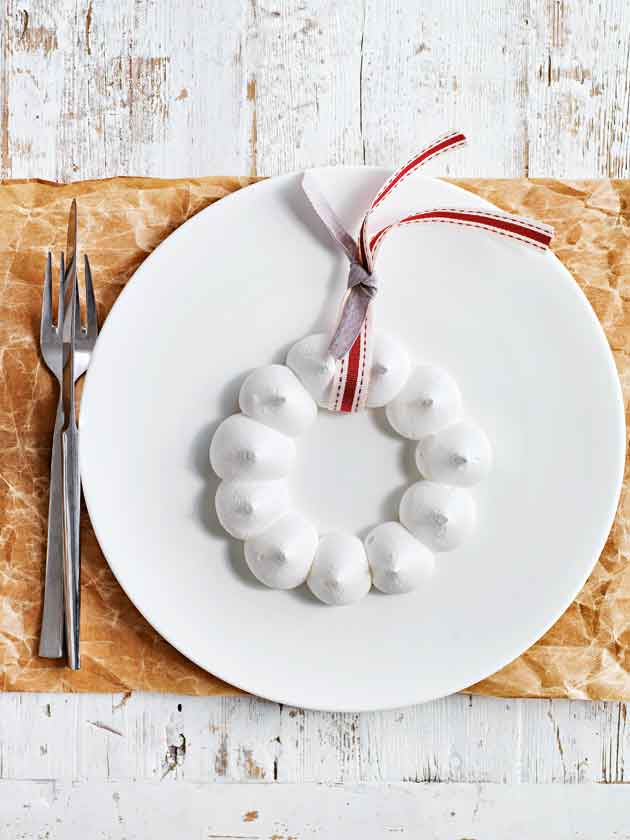 150ml eggwhites (approximately 4 eggs)
1 cup (220g) caster (superfine) sugar
1 teaspoon white vinegar

Preheat oven to 100°C (250°F). Place the eggwhites in the bowl of an electric mixer and whisk until stiff peaks form. Gradually add the sugar, 1 tablespoon at a time, waiting 30 seconds before adding more. Once all the sugar has been added, whisk for a further 6 minutes or until stiff and glossy. Scrape down the side of the bowl, add the vinegar and whisk for a further 2 minutes. Place the meringue into a piping bag fitted with a 1.6cm fluted nozzle.
Using a pencil, draw 10 x 10cm circles onto sheets of non-stick baking paper. Invert the paper onto baking trays and pipe the meringue around the inside of the circles to make 10 wreaths. Bake for 45–50 minutes. Turn the oven off and allow the meringues to cool in the oven for 1 hour. Carefully tie with ribbon to decorate. Makes 10.

Tip: Wreaths will keep in an airtight container for up to four days.
There are no comments for this entry yet.