baked caramel dumplings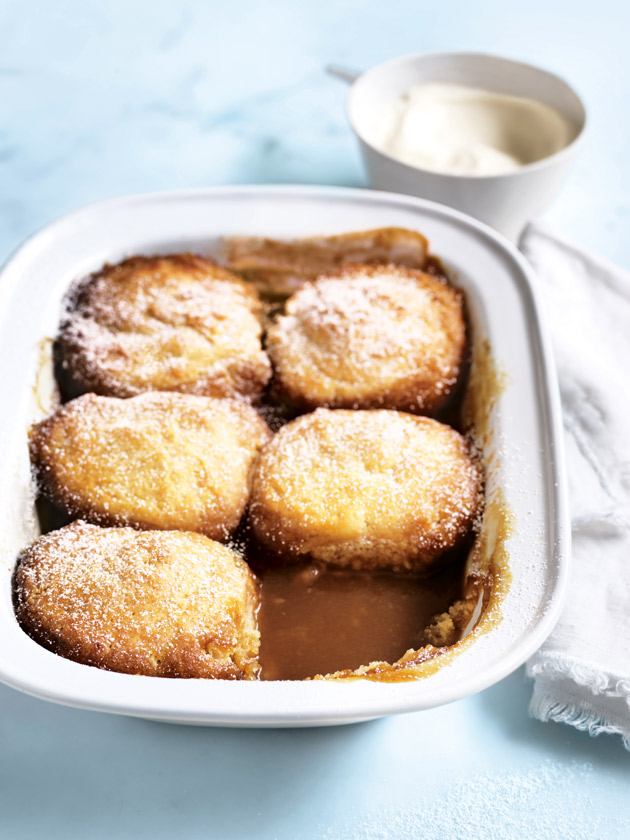 2 cups (300g) plain flour

¼ cup (45g) brown sugar

2 teaspoons baking powder

150g unsalted butter, chopped

½ cup (125ml) milk

1 teaspoon vanilla extract

double (thick) cream, to serve
icing sugar, for dusting

caramel sauce
40g unsalted butter

1½ cups (265g) brown sugar

2½ cups (625ml) water

​To make the caramel sauce, place the butter, sugar and water in a small saucepan over medium heat and bring to the boil. Cook for 2 minutes or until reduced slightly. Set aside.
Place the flour, sugar, baking powder and butter in a food processor and process until the mixture resembles fine breadcrumbs. Gradually add the milk and vanilla, while the processor is turning, until a smooth dough forms.
Turn out the dough onto a lightly floured surface and divide into 6 equal portions. Place in a 1.5-litre-capacity oven-proof dish. Pour over the caramel sauce and cook at 180°C for 30 minutes or until cooked when tested with a skewer. Serve with the cream and dust with icing sugar. Serves 6.
Joanne Hennessy
absolutely divine .... I loved the crunchie top on the dumplings.