coconut noodle salad
with caramelised limes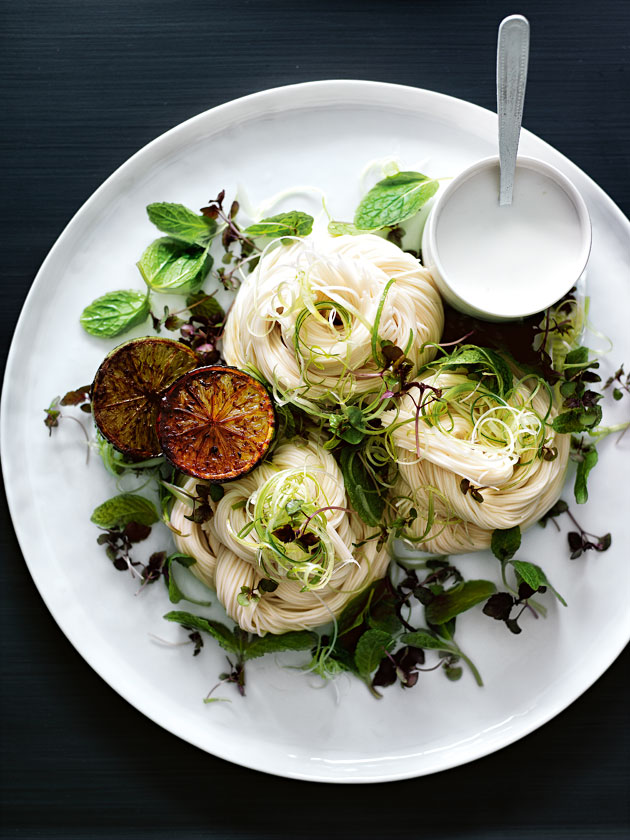 540g thin rice noodles

2 limes, halved

1 tablespoon brown sugar

2 green onions (scallions), finely shredded

1 cup mint leaves
baby shiso (micro herbs), to serve
coconut dressing

1 cup (250ml) coconut cream

1 tablespoon fish sauce

1 tablespoon lime juice

1 tablespoon caster (superfine) sugar

1 teaspoon sea salt flakes

Cook the noodles in a saucepan of salted boiling water according to the packet instructions. Drain and cool under running cold water. Set aside.
To make the coconut dressing, place the coconut cream, fish sauce, lime juice, caster sugar and salt in a bowl and stir to dissolve the sugar.
Heat a non-stick saucepan over medium heat. Press the cut sides of the limes onto the brown sugar and cook for 2–3 minutes or until caramelised. Place the noodles on a serving dish and top with the green onions and mint. Sprinkle with shiso and serve with the caramelised limes and coconut dressing. Serves 4–6.

There are no comments for this entry yet.