chocolate and miso caramel slice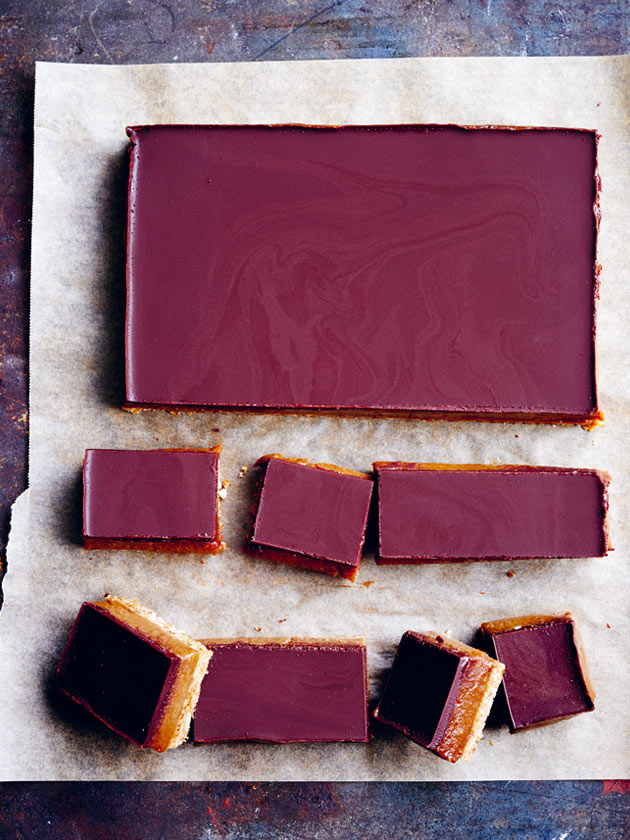 ¼ cup (25g/1 oz) raw cacao or cocoa powder
⅓ cup (80g/2¾ oz) coconut oil, melted
¼ cup (60ml/2 fl oz) maple syrup
ALMOND BASE
¾ cup (120g/4¼ oz) almonds
⅓ cup (25g/1 oz) desiccated coconut
6 soft fresh dates (120g/4¼ oz), pitted
¼ cup (60g/2 oz) smooth cashew butter
MISO CARAMEL
1½ cups (225g/8 oz) coconut sugar
1½ cups (375ml/12½ fl oz) coconut cream
½ cup (125g/4½ oz) smooth cashew butter
1 tablespoon white miso paste (shiro) (see tips + tricks)
1 teaspoon vanilla extract
To make the almond base, line a 20cm (8 in) square cake tin with non-stick baking paper, allowing 4cm (1½ in) of the paper to overhang the sides. Place the almonds, coconut, dates and cashew butter in a food processor. Process for 1–2 minutes or until the mixture resembles fine breadcrumbs. Using the back of a spoon, press the mixture into the base of the tin and refrigerate for 30 minutes or until set.

Preheat oven to 160°C (325°F). To make the miso

caramel, place the sugar, coconut cream, cashew butter, miso paste and vanilla in a large non-stick frying pan over medium heat. Cook, stirring constantly with a heatproof spatula, for 10 minutes or until thickened.

Pour the caramel evenly over the almond base and

bake for 25 minutes. Allow to cool at room temperature for 10 minutes, before refrigerating until cold.

Place the cacao, oil and maple syrup in a medium

heatproof bowl over a saucepan of simmering water (the bowl shouldn't touch the water) and stir for 2–3 minutes or until smooth. Pour the cacao mixture over the caramel and refrigerate for 30 minutes or until set.

Use the paper to help you lift the slice from the tin and

cut into bars. Refrigerate until ready to serve. Makes 30
TIPS + TRICKS
+ This slice is best eaten almost straight from the fridge. If I'm serving it to a crowd, i'll usually cut it into squares, place them on a platter and then into the refrigerator, so the pieces firm up nicely in advance.
+ For a saltier caramel, simply add a little extra miso paste.
+ You can use smooth almond butter in place of the cashew butter, if you prefer.
+ Keep the slice in an airtight container in the fridge for up to 2 weeks.
Photography: Con Poulos
There are no comments for this entry yet.