easter bunny cookies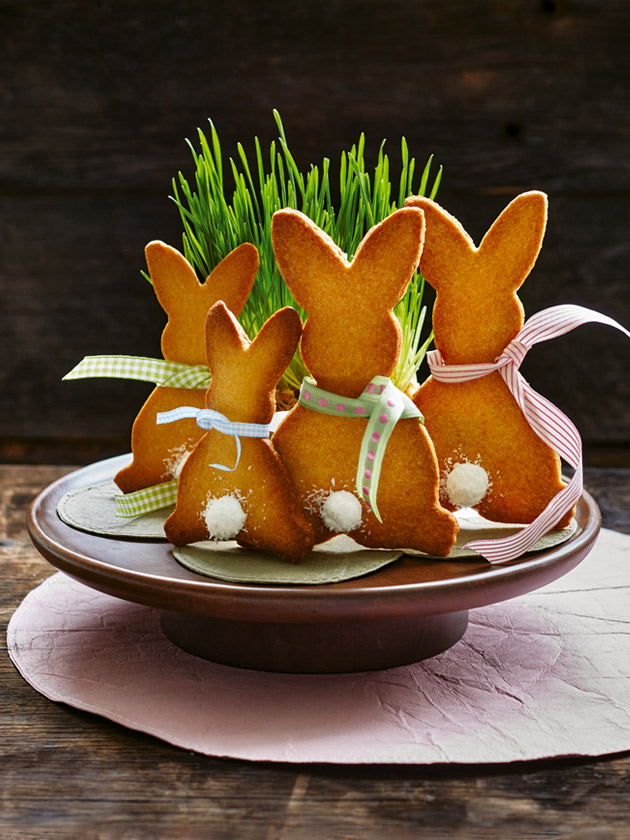 185g unsalted butter, chopped
1 cup (220g) caster (superfine) sugar
1½ teaspoons vanilla extract
2½ cups (375g) plain (all-purpose) flour
1 egg
1 egg yolk
bunny tails
100g white chocolate, melted and cooled
desiccated coconut, for sprinkling
Place the butter, sugar and vanilla in a food processor and process until smooth. Add the flour, egg and egg yolk and process until a smooth dough forms.
Turn the dough out onto a lightly floured surface and divide in half. Wrap and refrigerate for 30 minutes or until firm. Roll each piece out between sheets of non-stick baking paper until 5mm thick. Refrigerate for 10 minutes or until firm.
Preheat oven to 160°C (325°F). Remove the top sheets of baking paper from the dough. Using various size bunny cookie cutters, cut shapes from the dough, re-rolling and refrigerate as necessary. Place the cookies on lightly greased baking trays lined with non-stick baking paper and bake for 12–14 minutes or until golden. Allow to cool on trays for 10 minutes before transferring onto wire racks to cool.
To make the bunny tails, use a teaspoon, drop small rounds of chocolate on each bunny. Allow to set slightly then sprinkle with coconut. Allow to set completely before serving.
Photography: Con Poulos
There are no comments for this entry yet.