cranberry and pancetta stuffing cups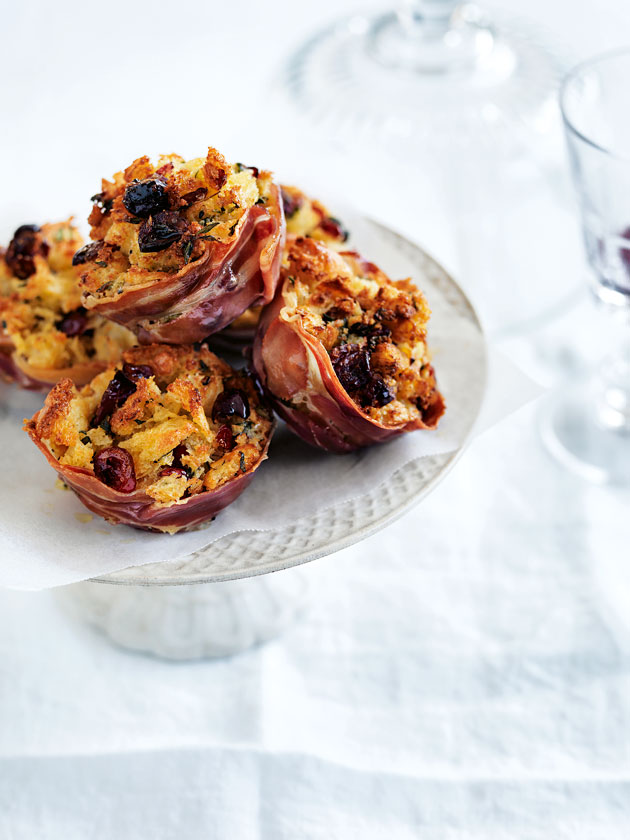 12 slices (180g) round pancetta
5 cups (350g) fresh breadcrumbs
1 cup (130g) dried cranberries
2 eggs
120g unsalted butter, melted
2 tablespoons torn sage leaves
¼ cup thyme leaves
2 cloves garlic, crushed
sea salt and cracked black pepper

Preheat oven to 180°C (350°F). Place the pancetta in the base of 12 x ½-cup-capacity (125ml) lightly greased cupcake tins.
Place the breadcrumbs, cranberries, eggs, butter, sage, thyme garlic, salt and pepper in a bowl and mix to combine. Spoon the bread mixture into the pancetta-lined cupcake tins and bake for 15–20 minutes or until golden and crunchy. Makes 12.

Nicki Hutley
I first made these about five years ago and my family demands them every Christmas now. They can even be adapted to a vegan version!
Gay Goss
Delicious cold sliced in sandwich with cold turkey and cranberry sauce
Julie Beauchamp
One of our family favouriets…..so delicious
- and super Easy
donna hay team
Hi Douglas, they are best eaten warm but can be made an hour or two in advance and served at room temperature. Or cooked the day before and heated in the oven. The DH team
Douglas John
Can these tart be eaten cold or are they better served from then oven?