chocolate and oat s'mores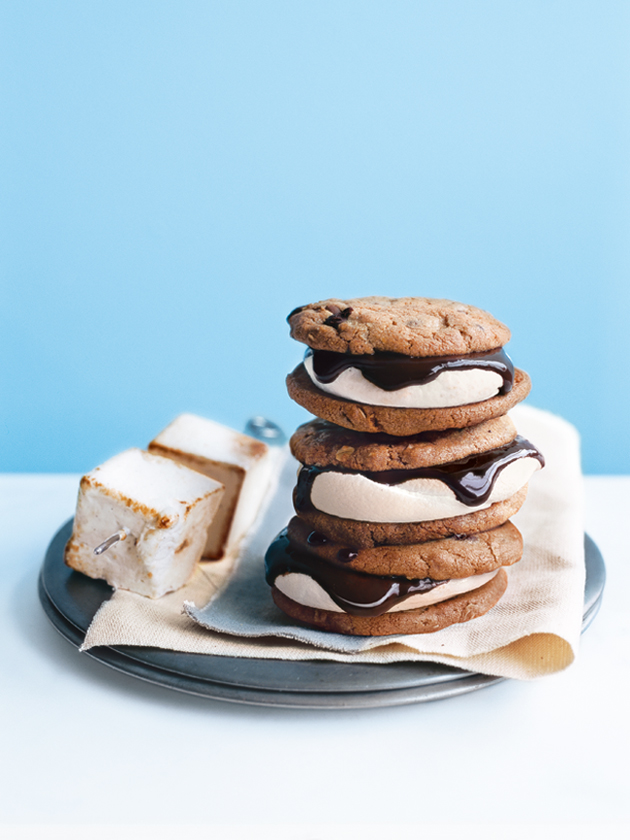 125g butter, softened

1¼ cups (220g) brown sugar

1 teaspoon vanilla extract

1 egg

1½ cups (225g) plain (all-purpose) flour, sifted

½ teaspoon baking powder, sifted

100g dark chocolate chips

100g milk chocolate chips

⅓ cups (30g) rolled oats

20 pieces of dark chocolate

20 marshmallows

Preheat oven to 180°C (355°F). Place the butter, sugar and vanilla in the bowl of an electric mixer and beat for 8-10 minutes or until light and creamy. Add the egg and beat until well combined. Add the flour and baking powder and beat until just combined.
Fold through the dark and milk chocolate chips and rolled oats. Roll tablespoons of the mixture and place on baking trays lined with non-stick baking paper, leaving space between them to spread. Flatten slightly and bake for 10–12 minutes or until golden. Cool on trays.
To assemble, place the biscuits bottom-side up on a tray. Top half with a piece of chocolate and the other half with a marshmallow. Bake until the chocolate and marshmallows are starting to melt. Sandwich the halves together and serve, Makes 20.

+ S'mores are a traditional US campfire treat. You can melt the marshmallows on sticks and sandwich between ready-made biscuits with the chocolate. The heat from the marshmallows will melt the chocolate.
donna hay team
Hi Anna, these are best served straight away - the cookies can be baked ahead and stored in an airtight container for 2 days. The dh team
Anna Perri
Hi DH team would these cookies be best served pretty much straight away or do they keep ok for a few days? Thanks