paprika chicken
with chickpeas and fennel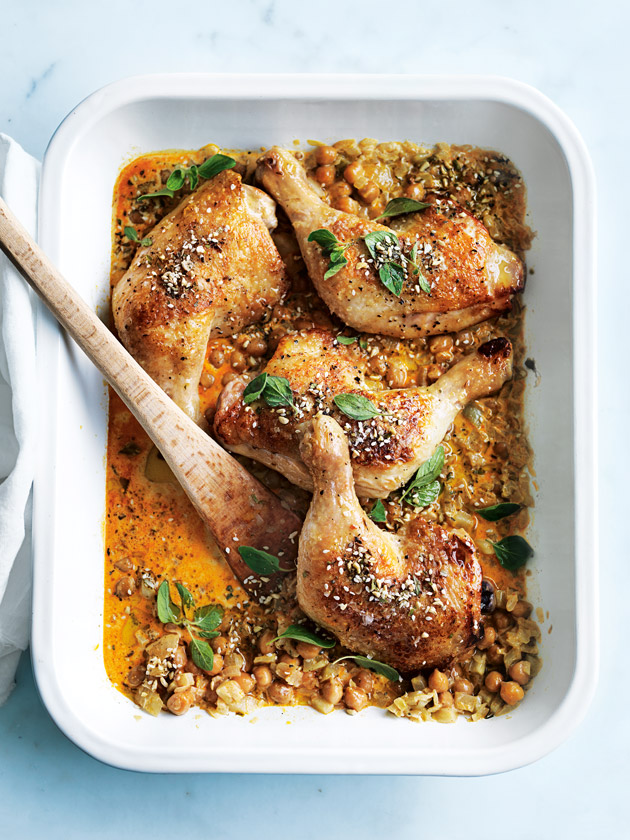 1 medium (380g) fennel bulb, trimmed and chopped

2 garlic cloves, crushed

400g can chickpeas (garbanzos), rinsed and drained

1 teaspoon smoked paprika

sea salt and cracked black pepper

1 cup (250ml) chicken stock

1 cup (250ml) single (pouring) cream

4 x 220g chicken marylands, skin on

1 tablespoon extra virgin olive oil

¼ cup oregano leaves

store-bought dukkah, to serve

Preheat oven to 250°C (485°F).
Place the fennel, garlic, chickpeas, paprika, salt and pepper in a deep-sided roasting pan. Add the stock and cream and mix to combine.
Brush the chicken with the oil and sprinkle with salt and pepper. Place on top of the fennel mixture. Cook for 20 minutes or until the chicken is golden and cooked through.
Sprinkle with the oregano and dukkah to serve. Serves 4.

Cat G
Hi Donna, Ive made this in the past and it came out perfect as per recipe.
This time, I used chicken thigh fillets and it wasnt cooked even after 35min.
This time I used chicken stock cubes in hot boiled water Added to the cream instead of cold stock added to the cream. Is that why the sauce didnt come together and instead separated and curdled?
Has anyone used thigh fillets? And do you add cold stock or hot temp stock?
Sorry
Cathrin Purcell
Lovely flavour, however Marylands is a cut I really do not like so I am substituting it with chicken breast fillets which are much easier to eat.
Jennifer Thomas
I have made this recipe about 5 times and it never fails to disappoint. It's a winner, easy to make and delicious flavors with the paprika and fennel. 5/5 from me!
Cat G
I got this recipe from one of DH mag and now its a weekly dish. Absolutely magical and so easy to make. Xx