popcorn honeycomb shards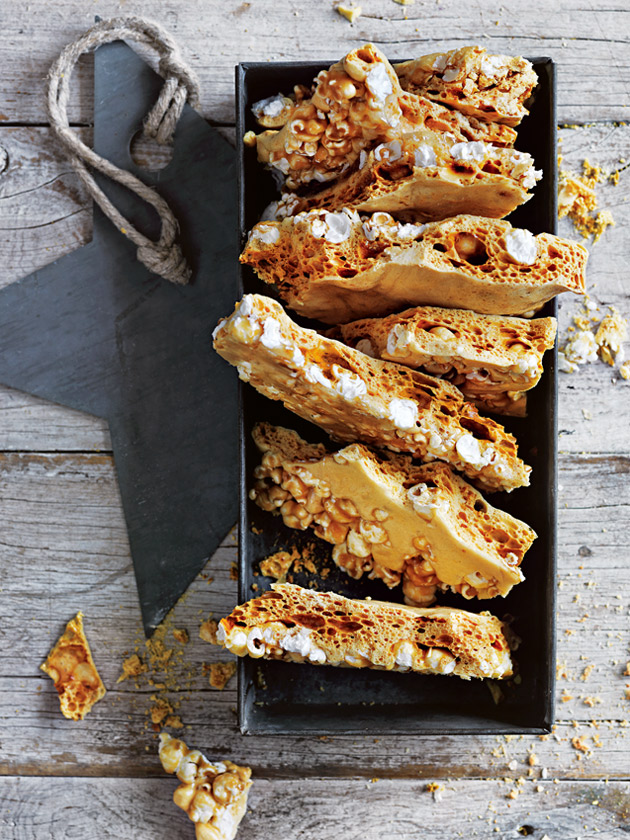 5 cups (200g) store-bought caramel popcorn

2 cups (440g) white (granulated) sugar

⅔ cup (160ml) light corn syrup

⅓ cup (80ml) water

1 tablespoon bicarbonate of (baking) soda, sifted

Spread the popcorn on a large 30cm x 42cm lightly greased shallow roasting tray lined with non-stick baking paper and set aside.

Place the sugar, corn syrup and water in a medium saucepan over medium heat, stir to combine and bring to the boil.

Insert a sugar (candy) thermometer and cook for 15–17 minutes or until the temperature reaches 152°C (305°F). Remove from the heat and, working quickly, add the bicarbonate of soda, whisking until combined. Immediately pour the mixture over the popcorn. Set aside for 30 minutes or until the honeycomb has cooled and hardened.

To serve, break the honeycomb into shards and package in cellophane bags. Serves 8–10.

+ The honeycomb will keep at room temperature in an airtight container for up to one week.
There are no comments for this entry yet.