prosciutto-wrapped eye fillet steaks

with ale jus and horseradish yorkshire puddings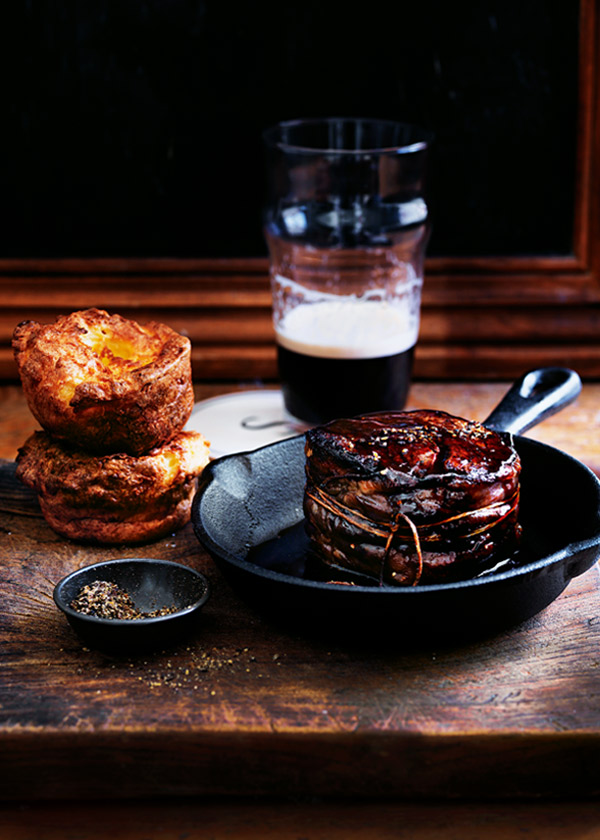 2 slices prosciutto, halved lengthways

2 tablespoons store-bought caramelised onion relish

2 x 200g centre-cut eye fillet steaks, trimmed and at 
room temperature

extra virgin olive oil, for brushing

ale jus
2 cloves garlic, crushed

1 tablespoon tomato paste

¼ cup (85g) store-bought caramelised onion relish

1 sprig rosemary

330ml dark ale

1 cup (250ml) beef consommé

sea salt and cracked black pepper

horseradish yorkshire puddings
2 eggs

⅔ cup (160ml) milk

1 tablespoon horseradish cream

½ cup (75g) plain (all-purpose) flour

40g ghee (see tip), melted

To make the ale jus, heat a saucepan over medium heat. 
Add the garlic, tomato paste and caramelised onion and cook, stirring, for 1 minute. Add the rosemary, ale, consommé, salt and pepper and cook for 25–30 minutes or until reduced by 
half. Strain, set aside and keep warm. Preheat oven to 200°C (400°F). Place 2 prosciutto slices, overlapping, on top of each other and spread with caramelised onion. Repeat with remaining prosciutto and onion. Wrap each steak with the prosciutto pieces and tie with kitchen string. Sprinkle with salt and pepper and brush with oil. Heat a large ovenproof frying pan over medium heat. Add the steaks and cook for 2 minutes each side. Transfer to the oven and cook for 
a further 5 minutes for medium-rare or until cooked to your liking. Loosely cover the steaks with aluminium foil and allow 
to rest for 3–4 minutes. Spoon over the ale jus and serve with the horseradish yorkshire puddings. 
Serves 2.

To make the horseradish yorkshire puddings, preheat oven to 220ºC (425ºF). Place the eggs, milk and horseradish in a bowl and whisk to combine. Gradually 
add the flour and whisk until smooth. Set aside for 30 
minutes. Divide the ghee between 6 x ½ cup-capacity 
(125ml) muffin tins. Place the tins on a tray and cook 
for 5–7 minutes or until the ghee is just smoking. Remove 
from the oven and divide the batter between the tins. 
Bake for 20–25 minutes or until puffed and golden. Serves 2.

Tip: Ghee is clarified butter with a high smoking point. You can buy 
it at most supermarkets.

Andrew Stewart
The ale jus was a bit on the "sharp" side. Could potentially do with some softening if I knew how to do that. Otherwise I totally enjoyed it and we paired it with raspberry brownies with vanilla ice cream and pistachio praline.