quinoa-crumbed lamb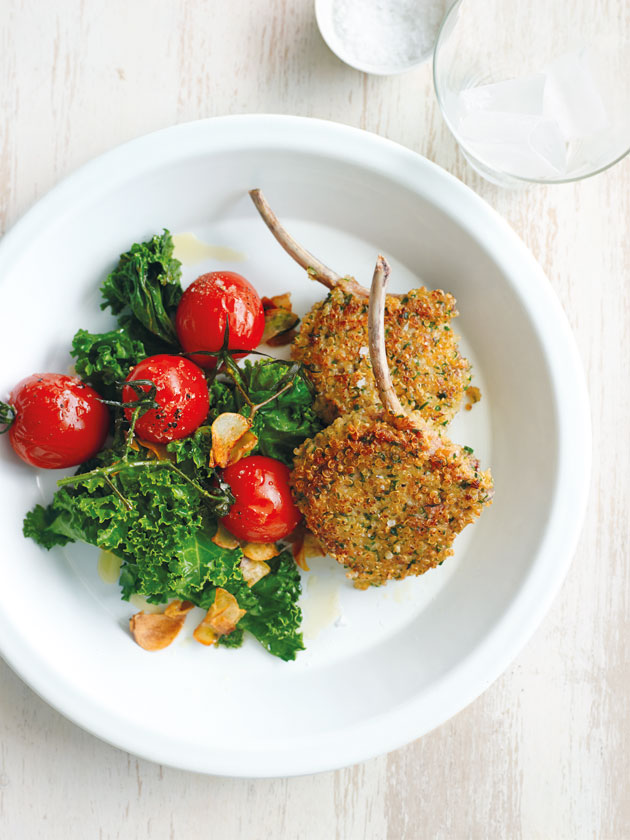 ⅓ cup (70g) white quinoa, rinsed
⅔ cup (160ml) water
2 tablespoons finely chopped flat-leaf parsley
1 clove garlic, crushed
sea salt and cracked black pepper
12 x 70g lamb cutlets, trimmed
plain (all-purpose) flour, for dusting
2 eggs, lightly beaten
250g cherry tomatoes on the vine
2 tablespoons olive oil, plus extra for brushing
250g kale, leaves removed and roughly chopped
2 garlic cloves, thinly sliced, extra

Place the quinoa and water in a medium saucepan over high heat and bring to the boil. Reduce heat to low and cook, covered, for 12–14 minutes or until all the water is absorbed. Remove from the heat and allow to stand, covered, for 5 minutes to cool slightly.

Preheat oven to 200°C (400°F). Place the quinoa, parsley, crushed garlic, salt and pepper in a bowl and toss to combine. Dust the lamb in the flour, dip into the egg and press into the quinoa mixture to coat. Place the tomatoes in a large baking tray lined with non-stick baking paper, brush with olive oil and sprinkle with salt and pepper. Roast for 6 minutes.

While the tomatoes are cooking, heat the oil in a large frying pan over high heat. Cook the lamb cutlets, in batches, for 2 minutes each side or until golden. Add the cutlets to the baking tray with the tomatoes and roast for a further 2 minutes or until cooked to your liking. Reduce the frying pan temperature to medium and cook the kale and sliced garlic for 2–3 minutes or until kale is wilted and garlic is golden. Divide the lamb cutlets, tomatoes and kale between plates and top with garlic to serve. Serves 4.

There are no comments for this entry yet.