ramen stock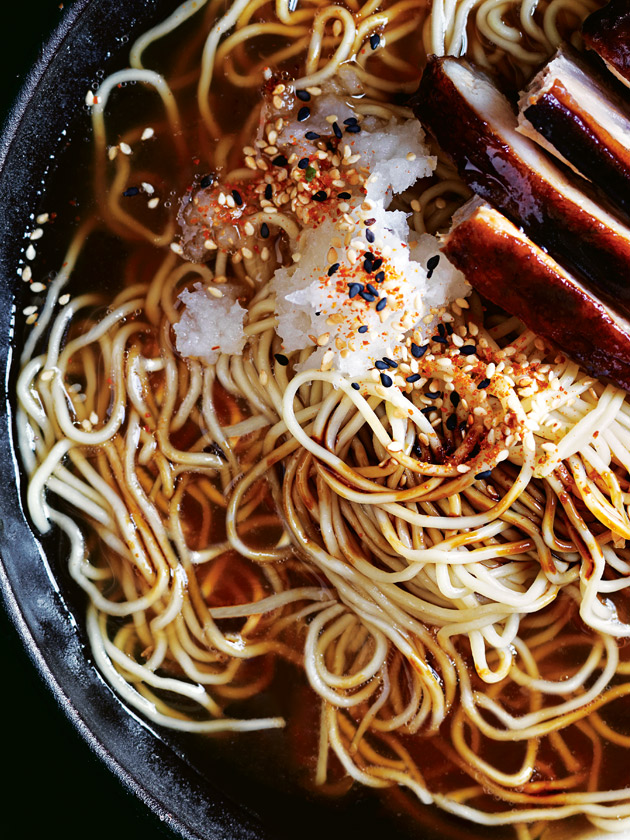 1 brown onion, skin on and quartered

5 litres water

2 bulbs garlic, halved

1 x 5cm piece ginger, thinly sliced

2 leeks, trimmed and quartered

5 dried shiitake mushrooms

1kg pork neck bones, cut into 5cm pieces+

1kg American-style pork spare ribs

2 tablespoons soy sauce

2 tablespoons sake

¼ cup (60ml) mirin (Japanese rice wine)

1 teaspoon sea salt flakes

1 x 15cm piece dried kombu (dried seaweed)++, rinsed

Place a large saucepan over high heat. Add the onion and cook, turning, for 6 minutes or until lightly charred.

Add the water, garlic, ginger, leek, mushrooms and pork bones and ribs. Cover with a tight-fitting lid and bring to the boil, skimming the surface with a metal spoon occasionally to remove any foam.

Remove the lid, reduce heat to medium and cook for 3 hours. Strain the broth, discarding the bones and vegetables.
Return the stock to a medium saucepan over medium heat. Add the soy sauce, sake, mirin, salt and kombu and cook for 15 minutes. Remove and discard the kombu. Makes 2 litres.
+ Ask your butcher to cut these for you.
++ Kombu is a dried seaweed available from Asian supermarkets, specialty grocers and health food stores.
Tip: This stock will keep frozen in an airtight container for up to 2 months. Defrost and heat in a large saucepan over medium heat.
There are no comments for this entry yet.