banana bread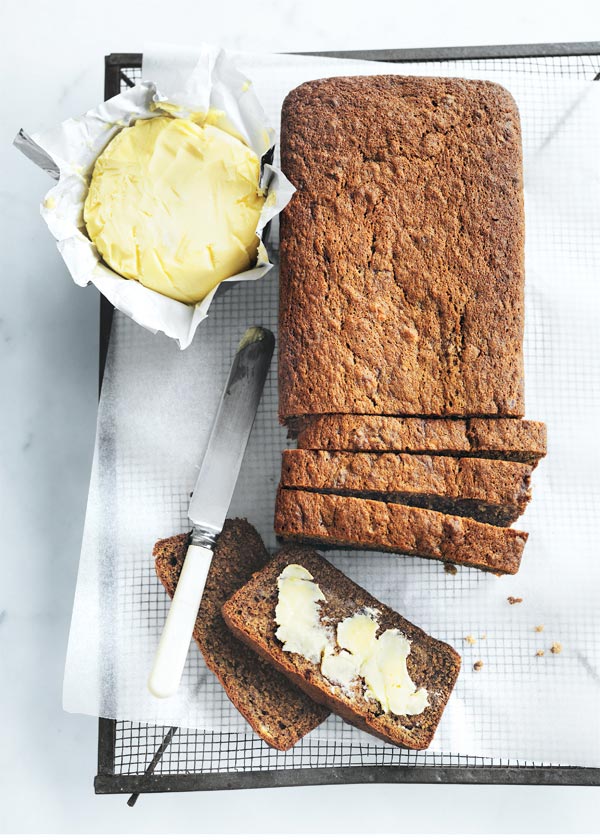 125g butter, softened

1 cup (175g) brown sugar
1 teaspoon vanilla extract
2 eggs
2 cups mashed banana
1¾ cups (255g) plain (all-purpose) flour, sifted
1 teaspoon baking powder, sifted
1 teaspoon bicarbonate of (baking) soda
1 teaspoon ground cinnamon
⅓ cup (115g) golden syrup
butter, extra, to serve

Preheat oven to 160°C (325°F). Place the butter, sugar and vanilla in an electric mixer and beat for 8–10 minutes or until pale and creamy. Scrape down the sides of the bowl.

Gradually add the eggs and beat well to combine. Add the banana, flour, baking powder, bicarbonate of soda, cinnamon and golden syrup and stir to combine.
Spoon the mixture into a 26cm x 11cm (2.5 litre-capacity) lightly greased loaf tin lined with baking paper. Bake for 60–65 minutes or until cooked when tested with a skewer.

Cool in the tin for 20 minutes before turning out onto a wire rack to cool completely. Slice and serve with the extra butter. Serves 6–8.

Filiz Peksen
The best banana bread I have ever eaten and baked!! We started to bake this every week. I reduced the sugar to 100 gram and add 1 1/2 cup walnuts ... So good… thank you
SONDRA FELIX
I have tried many banana bread recipes and this is by far the best recipe ever! The crumb is so light that I would call this a banana cake instead of bread. I will never ever use another recipe again! This is it!
Emily Potter-Brown
This is the best banana bread, I think on the planet. I make this regularly and service it for breakfast for all my friends and family and it astounds everyone, it is so perfect!
Kim Rojewski
There are 2 issues with this recipe that I can't see anyone else commenting on.
1. You have to wait tooo long after the bread comes out of the oven!!!!
2. Bananas don't ripen fast enough to use… I've had my bananas out for days waiting to ripen fast enough!!!!
Tiarne Gilligan
Absolutely DELICIOUS! So easy to make.
Ali Bab
Baked this banana bread without a mixer (good work-out!), replacing the brown sugar with raw sugar and the golden syrup with honey (all I had in the cupboard) and without any measuring cups and it turned out AMAZING! Would definitely recommend this recipe.
Beck Head
This is so yummy! I often add in half a cup of white choc chips but its still so good without it. My family gobbles this up. I've also substituted g/f flour and it worked well too.
Helene Visser
I've been in the hunt for a good banana bread recipe for years and I have finally found it!! This is amazing! I didn't add the golden syrup as I didn't have any. It still turned out incredible. So happy!
Mare Mlinaric
The easiest banana bread to make and the best taste ever.
Kathryn Daley
This was by far the best I have made. It was light, not gluggy like other recipes. Not even my picky husband could find fault. The only problem was that it all went in one sitting!
a k
Really enjoyed this banana bread. I added 4 teaspoons cocoa and around 3/4 cup walnuts based on suggestions in the comments - delicious! Note the size of the loaf tin required, as my loaf tin turned out to be too small.
Carolyn Drake
The most delicious banana bread. I have made it many times with the golden syrup, but it is also delicious without it, texture is still good, but just not quite as sweet.
Christine Mitchell
Yes definitely the best banana bread recipe. The aroma cooking, the taste. OMG
Christine Mitchell
How much cocoa and ginger did you add alanna
Alanna Biordi
Delicious!! The aroma of the house after baking this recipe makes my mouth water!! I added a little ground ginger and some cocoa just to enhance the delicious flavours
donna hay team
Hi Kate, you will need around 5 bananas to make 2 cups of mashed banana. Happy baking! the dh team
Annie Murray
A total hit with the family ! Definately staying on our menu of favorites
Kate Travers
Hi can anyone tell me roughly how many bananas I need for 2 cups of mashed? Thanks
Mark Dippel
This is my go to Banana Bread. It is the best. The only thing I do different, I also add a handful of rough chopped walnuts.
donna hay team
Hi Patti, In the US, we recommend using dark corn syrup instead of golden syrup. Happy baking! The DH Team