red cabbage, mango and coconut slaw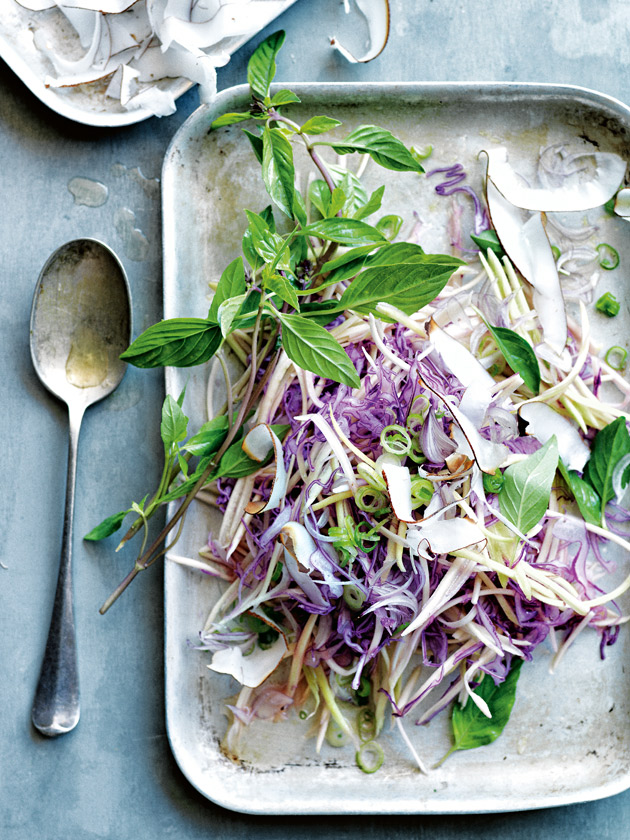 500g red cabbage, shredded

2 green mangoes, peeled and shredded+

2 eschalots, thinly sliced

1 cup shaved fresh coconut, toasted++

2 cups Thai basil leaves

3 green onions, thinly sliced

coconut dressing
⅓ cup (80ml) coconut water

¼ cup (65g) shaved palm sugar

2 tablespoons fish sauce

2 tablespoons lime juice

To make the coconut dressing, place the coconut water, sugar, fish sauce and lime juice in a bowl and stir until the sugar has dissolved.

Place the cabbage, mango, eschalots and dressing in a bowl and toss to combine. Transfer the slaw to a serving dish and top with the shaved coconut, basil and green onion to serve. Serves 4.

+ To shred green mango, use a julienne peeler. This looks like a conventional vegetable peeler, but has little 'teeth' that help create strips of vegetables.

++ Prepare fresh coconut by inserting a metal skewer in the indented eye to drain the juice. Cook in a 200°C oven for 10 minutes to soften the shell, then carefully crack with a hammer. Gently prise the flesh from the shell using a butter knife and shave with a vegetable peeler.
Judith Crawford
This was the third salad recipe I used on Christmas Day. Donna Hay was definitely present on our Christmas dinner. Love the dressing this salad was light and refreshing, a definite must. Thank you for your great recipes, they were yummmmmmy!