rhubarb and ginger pies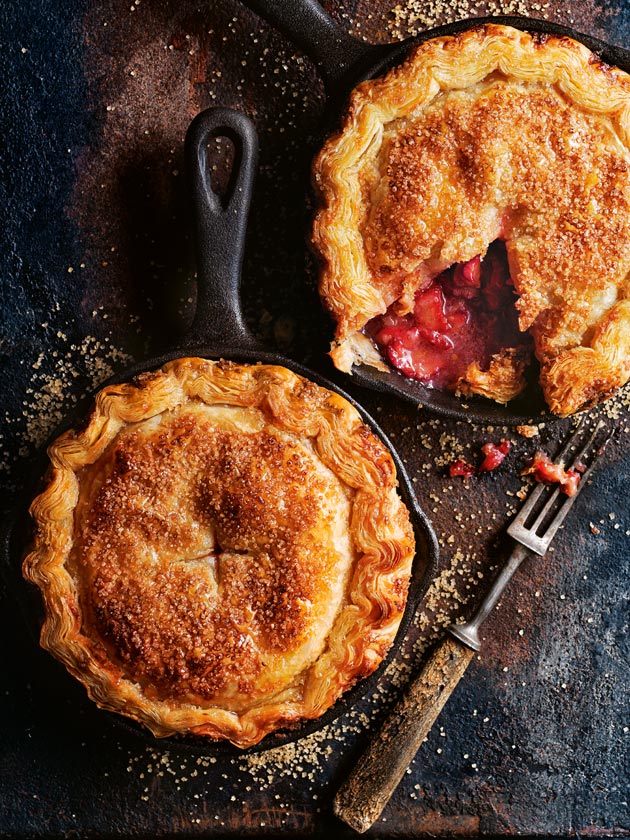 500g rhubarb, trimmed and thinly sliced

1 cup (220g) caster (superfine) sugar

2 tablespoons finely chopped crystallised ginger

¼ cup (35g) arrowroot

1 teaspoon vanilla bean paste

4 sheets frozen all-butter puff pastry, thawed

2 tablespoons almond meal (ground almonds)

1 egg, lightly beaten

2 tablespoons Demerara sugar

Preheat oven to 220°C (425°F). Place the rhubarb, caster sugar, ginger, arrowroot and vanilla in a large bowl and mix to combine.
Lightly grease 2 x 14cm (3-cup-capacity) heavy-based ovenproof frying pans (skillets). Cut out 2 x 18cm circles from the pastry and line each of the pans with a pastry circle. Divide each of the lined pans with the almond meal and top each with the rhubarb mixture.
Using an 18cm plate as a guide, cut out 2 circles from remaining pastry. Top the pies with the pastry lids, folding over any excess and pinching to seal. Brush each with the egg and sprinkle with the Demerara sugar. Using a small sharp knife, cut a small cross into the top of each pie.
Place on a large baking tray and cook for 20–25 minutes or until golden and puffed. Allow to cool slightly before serving. Serves 4–6.

There are no comments for this entry yet.