roasted capsicum and sundried tomato pesto pasta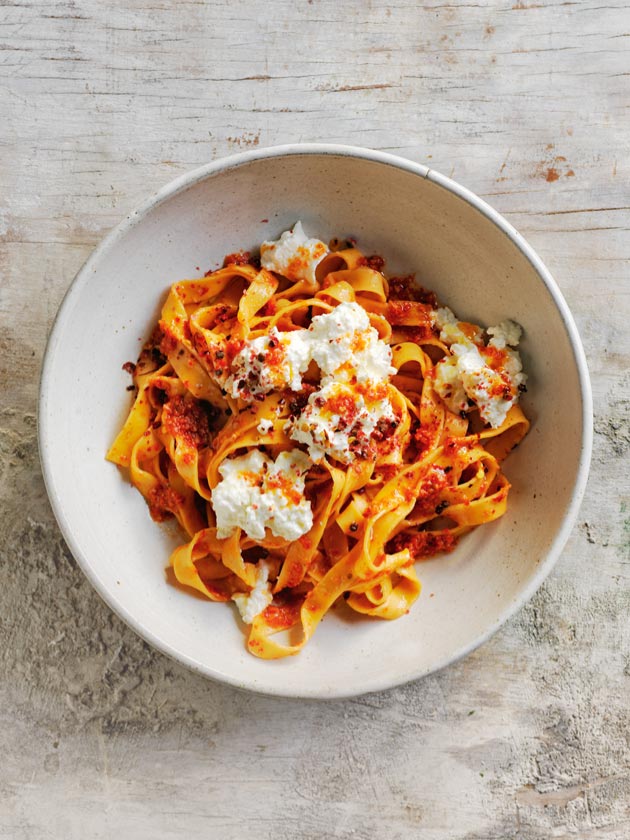 2 tablespoons extra virgin olive oil

1 cup (150g) semi-sundried tomatoes, drained

½ cup (120g) chargrilled capsicum (bell peppers), drained

½ cup (80g) toasted pine nuts

½ cup (15g) finely grated parmesan

1 clove garlic

½ teaspoon dried chilli flakes, plus extra to serve

1 teaspoon pink peppercorns, plus extra to serve

sea salt flakes

300g fresh capsicum fettuccine+

1 cup (240g) ricotta, to serve

Place the oil, tomato, capsicum, pine nuts, parmesan, garlic, chilli, peppercorns and salt in a food processor 
and process until combined.

Cook the pasta in a large saucepan of salted boiling water for 3 minutes or until al dente. Drain, reserving 
½ cup (125ml) of the cooking water. Return the pasta 
to the saucepan, add the pesto and reserved cooking water and toss to combine.
Divide the pasta between bowls and top with the ricotta, extra chilli flakes and extra peppercorns to serve. Serves 4.

+We used fresh pasta varieties, which are available from selected supermarkets, specialty grocers and delicatessens.

There are no comments for this entry yet.