roasted cauliflower, sage
and almond risotto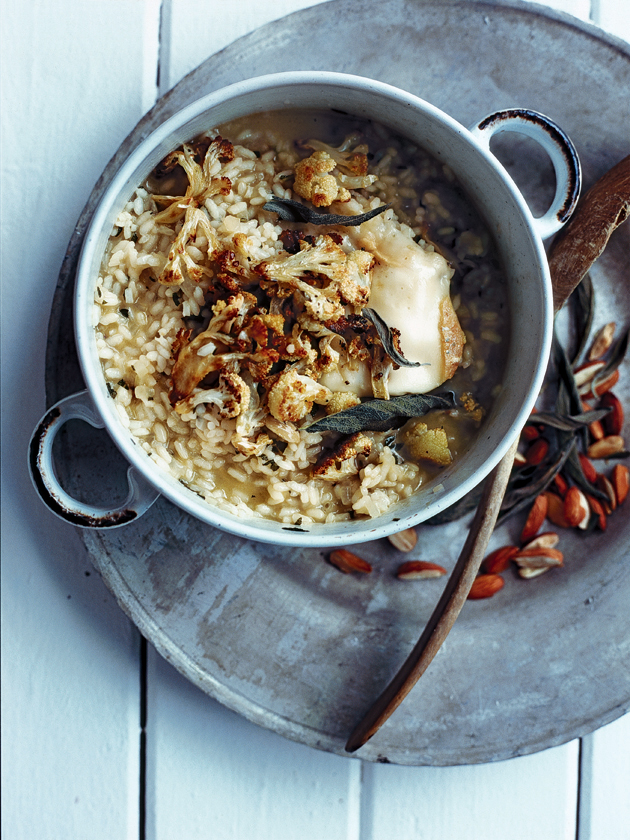 500g cauliflower, trimmed and chopped
2 tablespoons olive oil
sea salt and cracked black pepper
¼ cup (40g) chopped almonds
1 bunch sage, leaves picked
1.5 litres hot chicken stock
60g butter
1 brown onion, finely chopped
1 ½ cup (300g) aborio rice
½ cup (125ml) dry sherry
½ cup (40g) finely grated parmesan
100g Taleggio+ or strongly flavoured cheese, sliced

Preheat oven to 220°C (425°F). Place the cauliflower, oil, salt and pepper on a baking tray and toss to coat. Roast for 15 minutes, add the almonds and half the sage and roast for a further 5–8 minutes or until golden and crisp. Set aside and keep warm.

Place the stock in a saucepan over medium heat and bring to a simmer. Melt the butter in a large saucepan over medium heat. Add the onion and cook for 5 minutes or until soft. Chop the remaining sage and add to the pan with the rice and sherry. Cook, stirring, for 1–2 minutes or until the sherry is absorbed. Gradually add the stock, 1 cup at a time, stirring continuously for 25–30 minutes or until the stock is absorbed and rice is al dente. Stir through parmesan, salt and pepper and spoon into serving bowls. Top with Taleggio and the cauliflower mixture to serve. Serves 4.

+ Taleggio is an Italian washed rind cheese available from delicatessens.
There are no comments for this entry yet.