roasted eggplant with
smoked mozzarella and oregano crumbs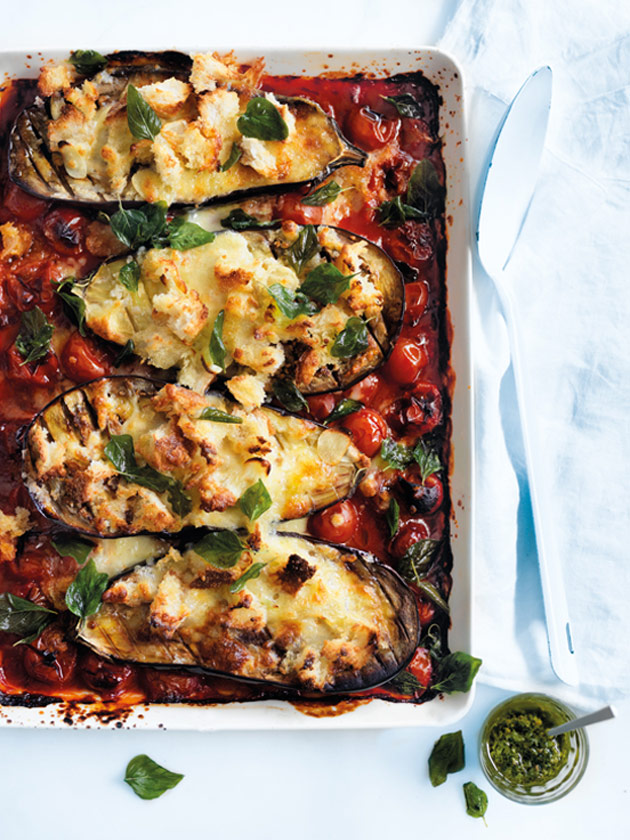 2 x 400g cans cherry tomatoes

1 tablespoon brown sugar

sea salt and cracked black pepper

2 eggplants (750g), halved and cut-sides scored

1 tablespoon extra virgin olive oil

1 cup (70g) fresh sourdough breadcrumbs

1 clove garlic, sliced

¼ cup oregano leaves

1 cup (115g) grated smoked mozzarella

¼ cup (65g) store-bought pesto, to serve

Preheat oven to 200°C. Place the tomatoes, sugar, salt and pepper in a large deep-sided roasting dish and stir to combine. Top with the eggplant, cut-side up, and drizzle with the oil.
Cook for 30 minutes or until the eggplants are tender. While the eggplants are roasting, place the breadcrumbs, garlic, oregano and mozzarella in a medium bowl and mix to combine.
Sprinkle over the eggplants, increase the oven temperature to 220°C and roast for a further 15 minutes or until golden and the cheese has melted. Drizzle with the pesto to serve. Serves 4.

+ Smoked mozzarella is available from selected delicatessens and cheese stores.
There are no comments for this entry yet.