salt and vinegar onion rings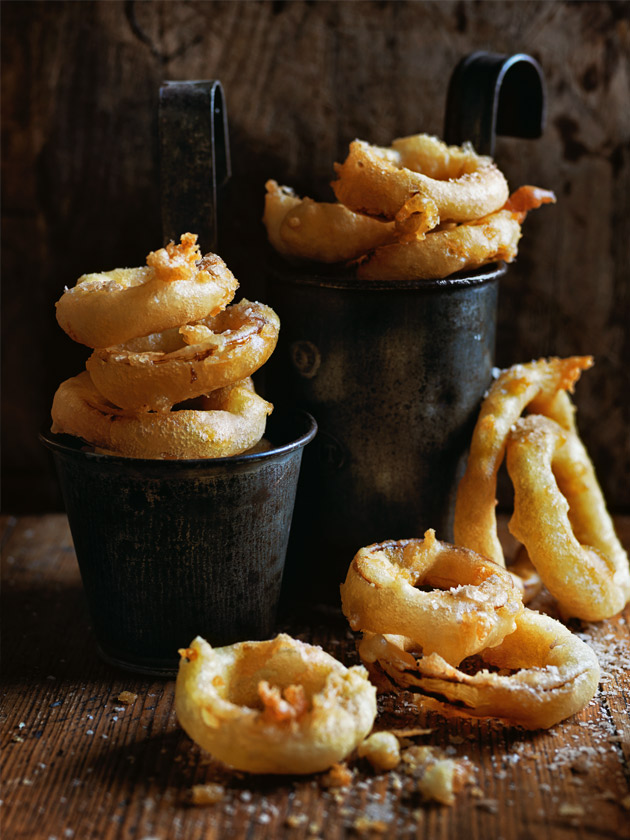 500g onions, sliced into 1cm-thick rounds

2 cups (500ml) sherry vinegar

2 teaspoons sea salt flakes

1½ cups (225g) self-raising (self-rising) flour

2 tablespoons caster (superfine) sugar

3 cups (750ml) cold soda water

3 cups (450g) cornflour (cornstarch)

vegetable oil, for deep-frying

smoked sea salt flakes, to serve

Place the onion, vinegar and salt in a large bowl, separating the onion into rings. Set aside for 1 hour 30 minutes to marinate.

Drain the vinegar mixture from the onion. Place the self-raising flour, sugar, soda water and 2 cups (300g) of the cornflour in a large bowl and stir to just combine.
Place the remaining cornflour in a separate large bowl. Half-fill a large saucepan with the oil and place over medium heat until it reaches 190°C (375°F) on a deep-frying thermometer. Working in batches, dust the onion in the reserved cornflour, dip in the batter and cook for 2–3 minutes or until golden brown.
Remove using a slotted spoon, drain well, sprinkle with smoked salt and serve immediately. Serves 6.

There are no comments for this entry yet.