salted caramel and vanilla baked cheesecake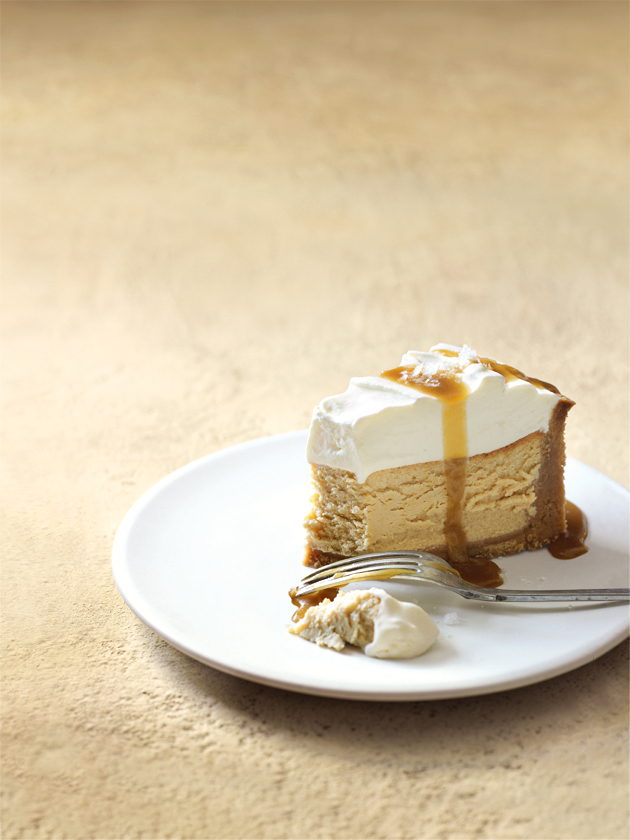 500g plain sweet shortbread biscuits

½ cup (60g) almond meal (ground almonds)

150g butter, melted

filling
350g ricotta

500g cream cheese

1 cup (175g) brown sugar

4 eggs

2 tablespoons golden syrup

¼ teaspoon table salt

2 teaspoons vanilla extract

cream layer
1 cup (250ml) single (pouring) cream

1 cup (240g) sour cream

1 tablespoon icing (confectioner's) sugar, sifted

sea salt flakes, for sprinkling

caramel sauce
1 cup (250ml) single (pouring) cream
60g butter, chopped
1 cup (175g) brown sugar

To make the caramel sauce, place the cream, butter and sugar in a saucepan over low heat and stir until the sugar is dissolved. Increase heat to high, bring to the boil and cook for 5–7 minutes or until thickened. Set aside and allow to cool. Preheat oven to 160°C (325°F).
Place the biscuits and almond meal in the bowl of a food processor and process until coarsely chopped. Add the butter and process to combine. Press the biscuit mixture into the base and sides of a lightly greased 22cm springform cake tin lined with non-stick baking paper. Refrigerate for 1 hour.
Place the ricotta and cream cheese in the bowl of an electric mixer and beat for 5–6 minutes or until smooth. Add the sugar and beat for 3–4 minutes or until combined. Add the eggs one at a time, beating well after each addition. Add the golden syrup, table salt and 1 teaspoon of vanilla and beat until well combined.
Spoon the mixture into the biscuit shell. Place the tin in a baking dish and pour in enough boiling water to come halfway up the sides of the tin. Bake for 1 hour 30 minutes or until firm to the touch. Remove cheesecake from the baking dish and allow to cool in the tin. Refrigerate for 3 hours or until set.
Place the cream, sour cream, icing sugar and remaining vanilla in a bowl and whisk until soft peaks form. Top the cheesecake with the cream, drizzle with the caramel sauce and sprinkle with sea salt flakes to serve. Serves 8–10.

donna hay team
Hi Emma, most springform tins should be waterproof, but to be safe we would suggest wrapping it in two layers of alfoil before putting in the water part. The DH Team.
donna hay team
Hi Heidi, no you will not be able to freeze it because it is dairy. The DH team.
Heidi Haughton
Just wondering could you freeze this before you put the cream topping…then just defrost when you need and top with cream then.
Emma Williams
This was my first ever cheesecake and first time using the water bath method. Unfortunately after putting it in the oven I read online that I should of wrapped the tin with foil to prevent water leakage .. but this recipe didn't say to do that .. so my cheese cake has a soggy base
Natalie Fay
I'm a bit confused if this recipe uses 350g of Ricotta cheese and 500g of cream cheese, or if it uses 350g of Ricotta or 500g cream cheese? If that makes sense haha