slow-braised beef brisket
and rosemary pasta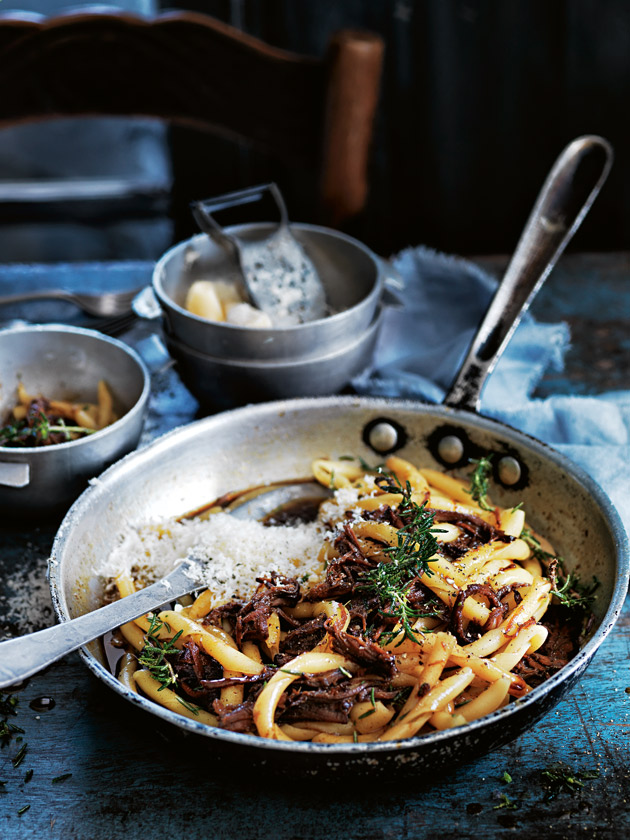 2kg beef brisket, trimmed and cut in half
1 onion, skin on, quartered
1 bulb garlic, halved
6 sprigs rosemary
2 teaspoons juniper berries
1 cup (175g) brown sugar
2 fresh bay leaves
1 cup (250g) balsamic vinegar
1 litre beef stock
1 litre water
400g long spiral pasta
2 teaspoons extra virgin olive oil
1 sprig rosemary, extra
finely grated parmesan and cracked black pepper, to serve
Place the beef, onion, garlic, rosemary, juniper berries, sugar, bay leaves, vinegar, stock and water in a large, heavy-based saucepan over high heat and bring to the boil.
Reduce heat to low, cover with a tight-fitting lid and cook for 4 hours or until tender. Remove the beef from the cooking liquid, straining the remaining liquid and reserving 4 cups (1 litre).
Using two forks, shred the meat and return to the pan with the reserved cooking liquid. Bring to the boil and cook for 12–15 minutes or until the liquid has reduced slightly.
While the beef is cooking, cook the pasta in a large saucepan of salted boiling water for 8–10 minutes or until al dente. Drain and add to the pan with the beef.
While the pasta is cooking, heat the oil in a large frying pan over high heat. Add the extra rosemary and cook for 30 seconds or until crisp. Drain on paper towel. Top the pasta with rosemary and sprinkle with parmesan and pepper to serve. Serves 4.
There are no comments for this entry yet.
RELATED VIDEO