basic zucchini slice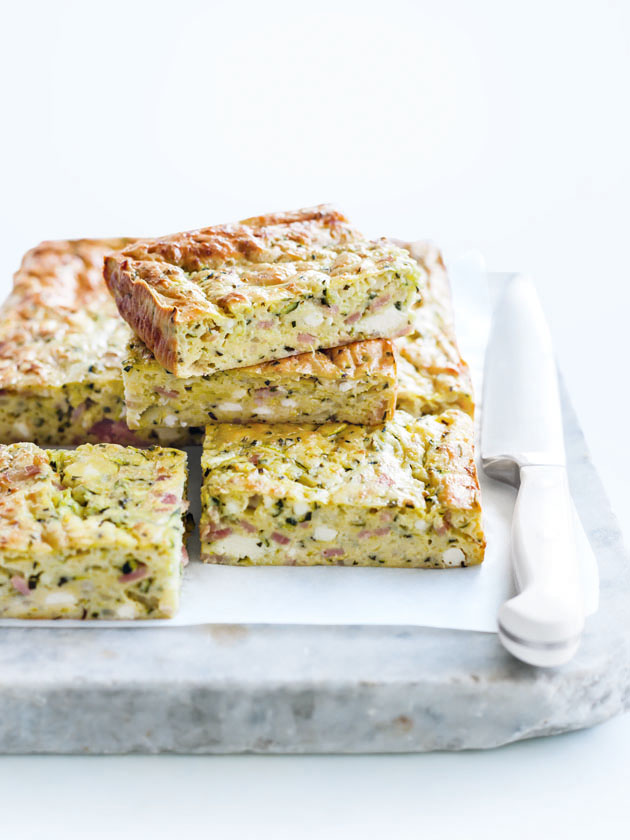 1 tablespoon olive oil

1 onion, finely chopped
2 cloves garlic, crushed
4 rashers bacon, rind removed and chopped
450g zucchini (courgette), grated
200g feta, crumbled
200g ricotta
½ cup (40g) finely grated parmesan
¼ cup chopped chives
sea salt and cracked black pepper
6 eggs
1 cup (150g) self raising (self-rising) flour, sifted

Preheat oven to 180°C (350°F).

Heat the oil in a large non-stick frying pan over high heat. Add the onion, garlic and bacon and cook for 5 minutes or until light golden. Place in a bowl with the zucchini, feta, ricotta, parmesan, chives, salt and pepper and mix to combine.

Place the eggs and flour in a bowl and mix well to combine. Add to the zucchini and mix to combine.

Spoon into a lightly greased 20cm x 30cm tin lined with non-stick baking paper and smooth with a palette knife. Bake for 40–45 minutes or until golden and cooked through. Cut into slices to serve. Serves 8–10.
To freeze: Cut the zucchini slice into 8–10 portions and place in air-tight containers separated with non-stick baking paper. Freeze for up to three months.
To defrost: Place the zucchini slice portions in the fridge overnight and allow to defrost completely before reheating in the oven or serving at room temperature.
Matt Houston
This is my go to for Zucchini Slice. I have made this so many times now. No other recipe comes close to this one.
Thanks Donna. Xo
Heather Witts
I made this last night for my family and we all loved it. Very yummy recipe.
kristin griffin
My go-to zucchini slice, everyone loves it and an easy school lunchbox fave!
Emma Jacques
Simple to make and beautiful to eat.