beef empanadas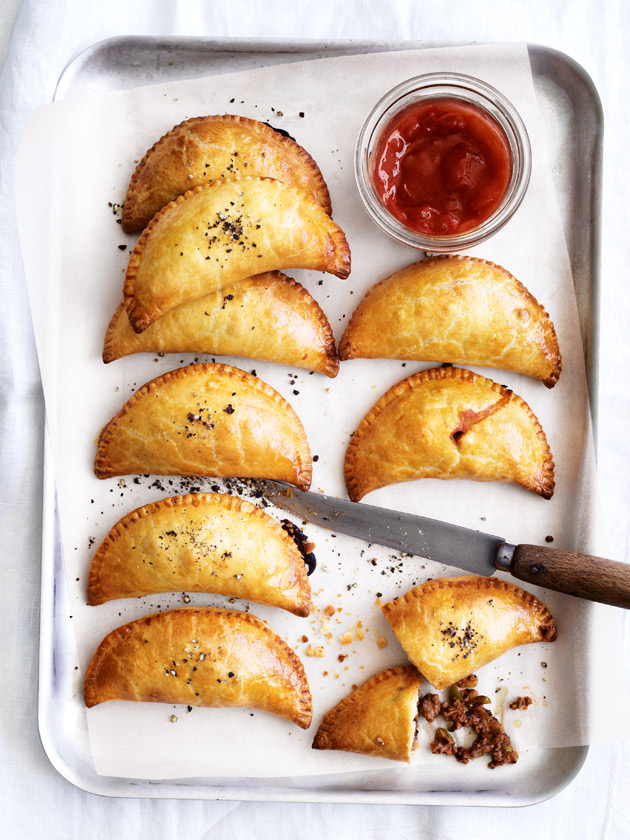 1 tablespoon extra virgin olive oil

1 brown onion, finely chopped

3 cloves garlic, crushed

1 teaspoon ground cumin

¼ cup fresh oregano leaves, chopped

400g beef mince

¼ cup (70g) tomato paste

¼ cup (60ml) water

¾ cup (90g) green pitted Sicilian olives, chopped

1 cup flat-leaf parsley leaves, chopped

sea salt and cracked black pepper

4 sheets store-bought shortcrust pastry

1 egg, lightly beaten

store-bought tomato relish, to serve

Heat the oil in a large, non-stick frying pan over high heat. Add the onion, garlic cumin and oregano and cook, stirring, for 2–3 minutes or until golden. Add the mince and cook, breaking up any lumps with a wooden spoon, for 5 minutes or until golden. Add the tomato paste and water and cook for 2 minutes. Add the olives, parsley, salt and pepper and set aside to cool completely.

Preheat oven to 200°C (400°F). Using an 11cm-round cookie cutter, cut 4 rounds from each shortcrust pastry sheet. Place 1 ½ tablespoons of the beef mixture in the centre of each round and brush the edges with the egg. Fold to enclose and press with a fork to seal.
Place on 2 oven trays lined with non-stick baking paper and brush with egg. Bake for 15–20 minutes or until golden. Serve with tomato relish. Makes 16.

+ Great served hot or cold, these empanadas are perfect for picnics and entertaining.
Kate Dames
Great recipe, simply delicious.
We added a little paprika and chilli to the mince mixture and really enjoyed them.
Thank you