no-knead bread rolls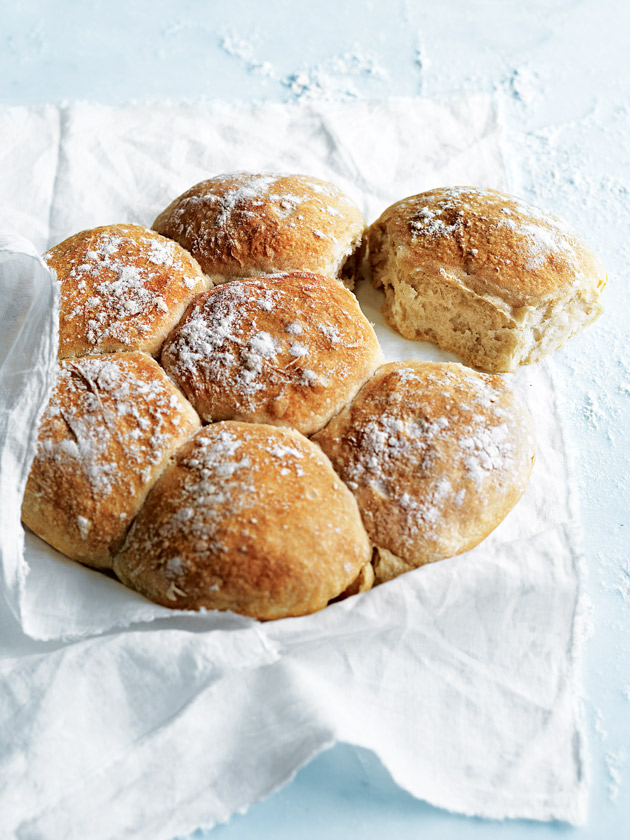 4½ cups (675g) '00' flour
1¼ teaspoons active dry yeast
3 teaspoons extra virgin olive oil
1½ teaspoons table salt
2

⅓

cups (580ml) water
Place all the ingredients in a large bowl and mix to form a wet, sticky dough. Cover the bowl with plastic wrap and allow to stand for 4 hours or until dough has tripled in size and has large bubbles. Turn out onto a well-floured surface, divide into 7 pieces and shape into rounds.
Dust the base of a 30cm-round heavy-based ovenproof saucepan with flour and place the rounds inside. Cover the pan with plastic wrap and allow to stand for a further 30 minutes or until the dough has doubled in size.
Preheat oven to 220°C (425°F). Remove the plastic, cover the saucepan with a tight-fitting lid and bake for 20 minutes. Remove the lid and cook for a further 20 minutes, or until the bread is golden and sounds hollow when tapped lightly. Turn out and allow to cool completely on a wire rack. Makes 7 rolls.

Tip: How does it work? The secret behind no-knead bread is the long fermentation time. Letting the dough rise for several hours, as opposed to kneading it, allows time for the gluten to work its magic, resulting in a lovely, airy-textured bread. During the long rising time, bubbles form in the dough ensuring the end product is light and fluffy. By nature, the dough is quite sticky, so make sure you work on a well-floured surface. Once the dough is baking in the heavy-based ovenproof saucepan, the moisture content in the dough will create steam inside the pan, producing a crunchy crust.
L M
This is a fabulous recipe, easy tasty and works exactly as promised. Thank you Donna.
RELATED VIDEO