broad bean bruschetta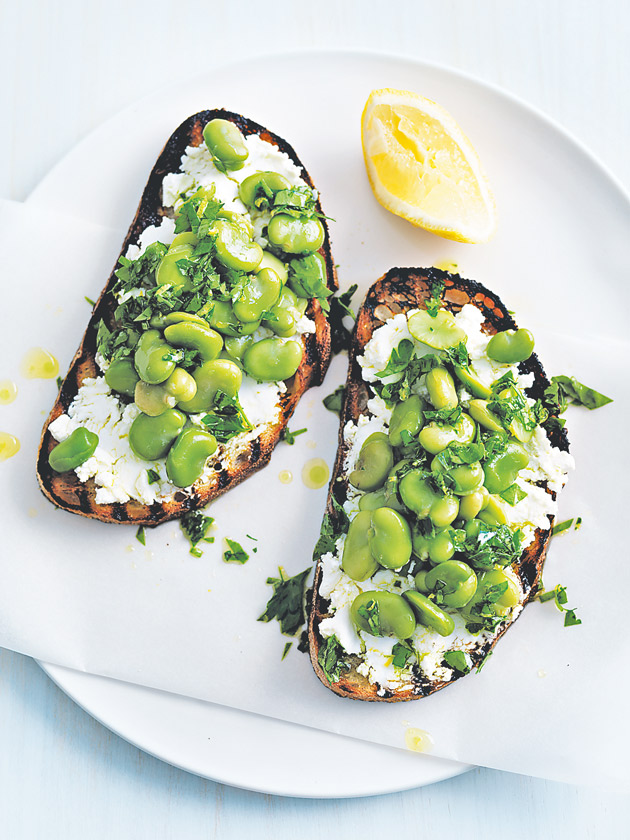 8 slices sourdough bread

extra virgin olive oil, for brushing

1 clove garlic, halved

200g feta, crumbled

1.2kg broad beans, shelled, blanched and peeled+

lemon wedges, to serve

gremolata
1 cup flat-leaf parsley leaves, finely chopped

1 tablespoon finely grated lemon rind

1 tablespoon extra virgin olive oil

sea salt and cracked black pepper

To make the gremolata, place the parsley, lemon rind, oil, salt and pepper in a bowl and mix to combine. Set aside.
Preheat a char-grill pan over high heat. Brush the sourdough slices with oil. Grill the sourdough until lightly charred. Rub one side of each slice of bread with the cut clove of garlic. Spread each slice with feta, top with the beans and spoon over the gremolata. Serve the bruschetta with lemon wedges. Serves 4

+ Depending on the age of your broad beans, you'll most likely need to shell the beans from their pods, and blanch them in salted boiling water for no more than 1 minute. Peel the grey skins to reveal the bright green beans, then refresh them under cold running water to halt the cooking process and retain their brilliant colour.
Tip: Broad beans are in season in spring. When they're unavailable fresh, you can buy them frozen at most supermarkets. Thaw the beans and use them as directed in the recipe.
Photography: William Meppem
There are no comments for this entry yet.