corn and feta croquettes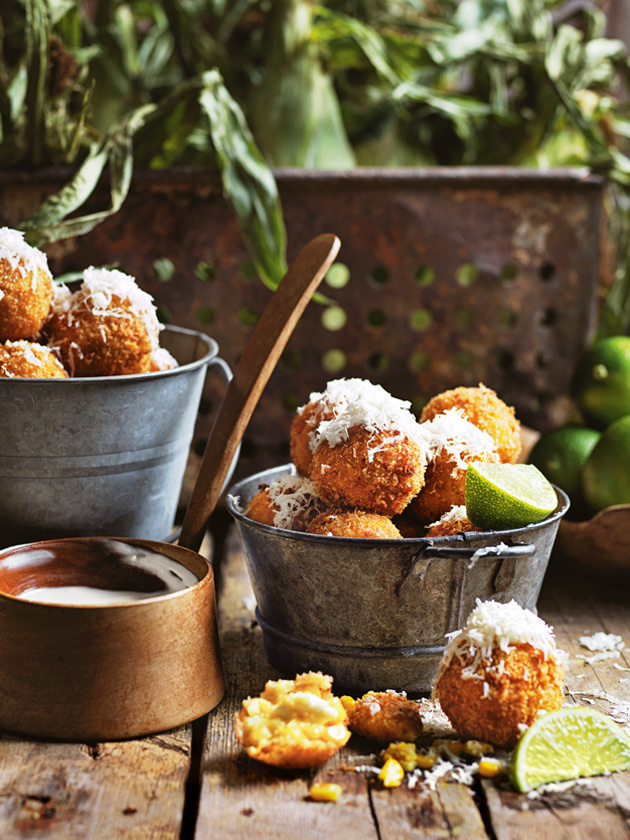 1 tablespoon extra virgin olive oil

4 cobs corn, kernels removed

2 cloves garlic, crushed

20g unsalted butter

2 tablespoons plain (all-purpose) flour

½ cup (125ml) milk

1½ cups (120g) finely grated manchego

¼ teaspoon ground chilli

200g firm feta

sea salt and cracked black pepper, for sprinkling

½ cup (75g) plain (all-purpose) flour, extra

2 eggs, lightly beaten

1½ cups (105g) panko (Japanese) breadcrumbs

vegetable oil, for deep frying

¼ cup (75g) whole-egg mayonnaise

¼ cup (60g) sour cream

1 tablespoon lime juice

lime wedges, to serve

Heat the olive oil in a large non-stick frying pan over high heat. Add the corn and garlic and cook, stirring, for 2 minutes. Remove from the pan and set aside.

Wipe the pan clean and return to medium heat. Add the butter and cook until melted. Add the flour and cook, stirring, for 1 minute or until bubbling and combined. Gradually add the milk and cook, stirring constantly, for 2 minutes or until thick. Add the manchego and half the chilli and mix to combine. Remove the sauce from the heat and place in a large bowl.

Place half the corn mixture in a small food processor and process until smooth. Add the pureéd corn and the remaining corn mixture to the white sauce. Crumble in half the feta, sprinkle with salt and pepper and mix to combine. Spread the mixture onto a tray and refrigerate for 1 hour or until cold.

Place the extra flour, the egg and breadcrumbs in 3 separate bowls. Roll tablespoons of the chilled corn mixture into balls. Working in batches, dip the balls into the flour, egg, then breadcrumbs, tossing gently to coat.

Fill a large saucepan half-full with vegetable oil and place over medium heat until it reaches 180°C (350°F) on a deep-frying thermometer. Working in batches, fry the croquettes for 4 minutes or until golden and crisp. Remove with a slotted spoon and drain on paper towel.

While the croquettes are cooking, place the mayonnaise, sour cream, lime juice and the remaining chilli in a small bowl and mix to combine. Finely grate the remaining feta over the croquettes and serve with the dipping sauce and lime wedges. Makes 24.

There are no comments for this entry yet.