crispy leaf potatoes with oregano salt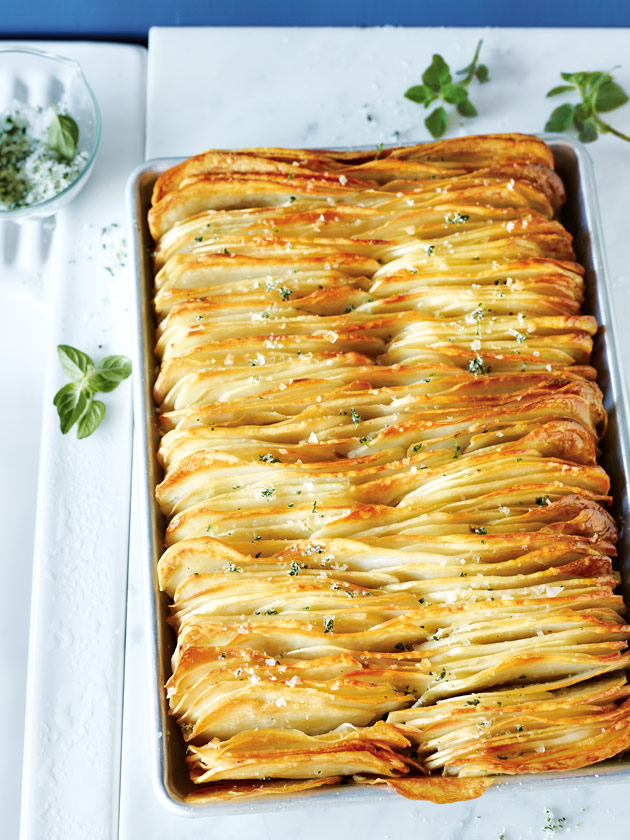 5.5kg large sebago (starchy) potatoes, peeled

1¼ cups (310g) duck fat+, melted

1 tablespoon sea salt flakes

1 teaspoon cracked black pepper

oregano salt
¼ cup oregano leaves

2 tablespoons sea salt flakes

Preheat oven to 200°C (400°F). Trim the rounded edges of each potato to make large rectangles and thinly slice on a mandolin. Place in a large bowl, add the duck fat, salt and pepper and toss to combine.

Working along the short edge of a 24cm x 37cm roasting pan, arrange the potato upright from right to left to fill the pan. Roast for 1 hour 15 minutes or until golden and crisp.

To make the oregano salt, place the oregano and half the salt in a small food processor and process until finely chopped. Transfer to a small bowl, add the remaining salt and mix to combine.

Sprinkle the potatoes with oregano salt to serve. Serves 8–10

TIP
You can buy duck fat in jars or tins at delicatessens, specialty grocers and at most supermarkets.
Photography: Anson Smart

donna hay team
Hi Jane, you can use extra virgin olive oil. The dh team
Jane Lukan
I prefer to use non animal products - can you advise a suitable substitute for the duck fat
donna hay team
Hi Mary Ann, yes you can print. There is a small round print button under the picture of the recipe - the first one next to save. The DH team
MaryAnn Pletcher
Am I now able to print this recipe? I there a print button?