flatbread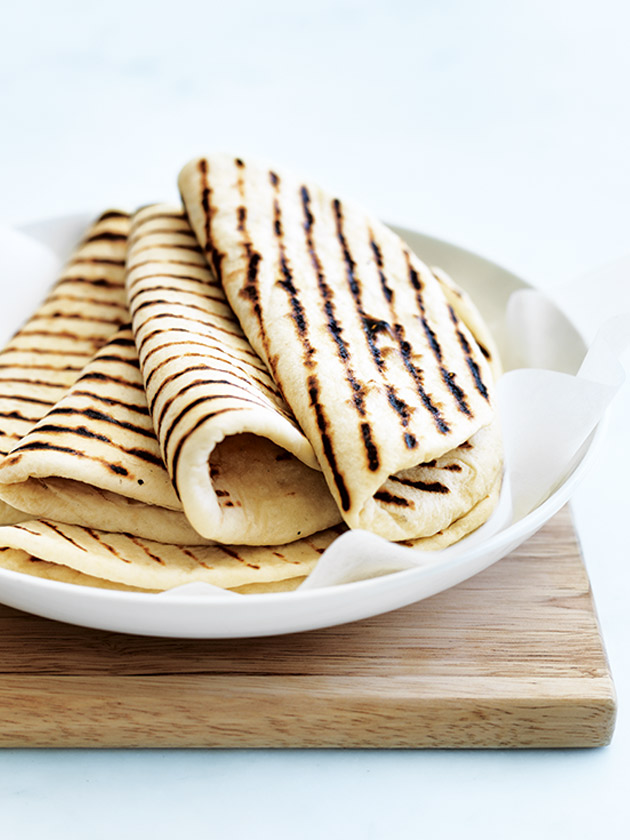 2 teaspoons dry yeast
1 teaspoon caster (superfine) sugar

2/3 cup (160ml) milk, at room temperature

1/3 cup (80ml) water, at room temperature
2½ cups (320g) 00 (superfine) flour+
1 teaspoon sea salt flakes
1 tablespoon extra virgin olive oil, plus extra for greasing
Place the yeast, sugar, milk and water in a small bowl and stir to combine. Set aside for 5 minutes or until the mixture starts to bubble and the surface looks foamy.

Place the flour and salt in a large bowl and mix

to combine.

Add

the oil to the yeast mixture and stir to combine. Gradually add the yeast mixture to the flour mixture, mixing until combined.
Turn out onto a lightly floured surface and knead for 4–5 minutes or until smooth. Place the dough in a large, lightly oiled bowl, cover with a damp tea towel and allow to stand for 40 minutes or until doubled in size.

Preheat a char-grill pan or barbecue over medium heat. Punch the air out

of the dough and divide into 6 equal pieces. Roll out each piece on a lightly oiled surface to a 20cm round.
Cook the flatbreads, in batches, for 1–2 minutes each side, or until they puff slightly. Transfer to a clean dry tea towel and cover until ready to serve. Makes 6.



+ 00 or bread flour is available from the baking aisle of the supermarket.
Therese Neff
Thank you, my wife used the whey after making ricotta and the result was like a beautiful nann bread we have been looking for. I give this a 5 star rating, well done Donna.